Conventional TV and CBC down in 2015: CRTC
Losses on conventional came from non-advertising drops, according to the report.
Canada's 93 conventional TV stations saw overall revenues dip in 2015 by 2.6% or $46.6 million from 2014 numbers to land at $1.76 billion last year.
Private conventional TV stations were unprofitable for the third consecutive year in 2015, with overall PBIT down to -8.0% from -7.7% in 2014.
The overall revenue loss is attributed to a 9.9% dip ($13.6 million)  in "other revenues" in 2015. The CRTC didn't specify the exact cause, but classifies things like retransmission and BDU royalties, co-production sponsorship and donations in the declining category.
Also impacting revenue was the termination of the Local Programming Improvement Fund (LPIF), which resulted in an overall loss of $21.7 million in revenues in 2015 compared with 2014.
Overall advertising revenue numbers have dropped 17% or $309 million since 2011 but remained relatively unchanged from 2014 to 2015. Local airtime advertising sales dropped 1% for the year, moving to $330.1 million. National ad sales only dropped 0.19%, landing at $1.1 billion in 2015.
Private conventional TV stations' total revenue has been falling for the past five years dropping by 17.9% or $381.9 million between 2011 and 2015.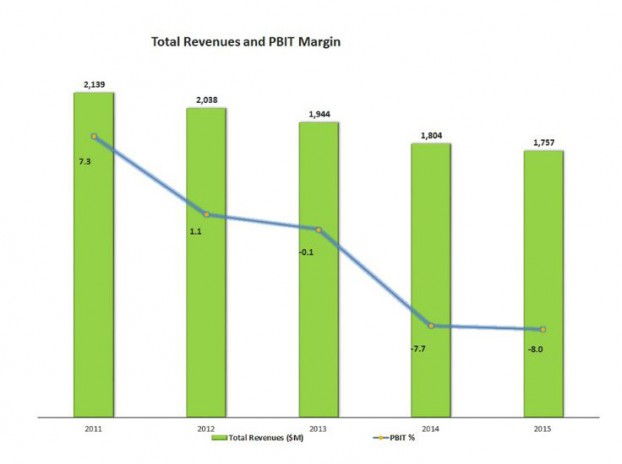 Total expenditure has also been dropping and is down by 3.9% or $72.7 million between 2011 and 2015. Overall expenditures at private conventional TV stations were $1.82 billion in 2015, a 1.6% drop from 2014. Program expenditures took the largest hit, dropping 2.4% or $34 million, moving to $1.36 billion in 2015. Despite the drop, programming expenditure still accounted for 75.1% of total expenses at private conventional TV stations in 2015.
The CBC/ Radio-Canada reported total revenues of $1.1 billion in 2015, down 16.6%, or $220.9 million from 2014.
Advertising revenue at the CBC/Radio-Canada dropped by 53.6% in 2015, moving to $220.1 million from $474.6 million the previous year. That significant drop was due to the loss of NHL TV rights coupled with the absence of major sporting events like the Olympics and FIFA World Cup.
Image courtesy of Shutterstock