Connected Interactive gets gaming
Marketers can integrate their brands into any of the three games the ad tech company has launched.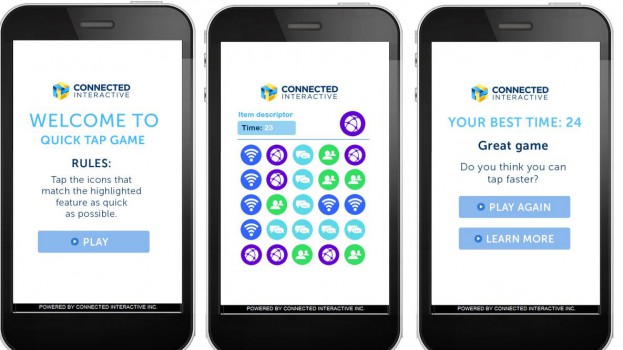 Toronto-based ad tech company Connected Interactive has introduced a suite of in-app games, into which brands can be integrated.
Called adver-games, Connected Interactive's offerings include ConnectNinja, a top-view strategy game that has users slicing through one set of objects while avoiding others; ConnectTap, a timed game that asks users to tap away as many branded icons as possible and ConnectMatch, a branded memory game that tasks users with flipping over tiles to find matches before the clock runs out.
The games appear within Connected Interactive's collection of represented mobile games (including Farm Frenzy, Magic Towers and Words with Friends) as a "Watch and Earn" sponsored button that users can click on while playing in exchange for in-game currency. Game times vary in length, but on average there is a 30-second countdown for them.
The adver-games are sold on a cost-per-engagement basis, with clients only paying once users have completed the games at least once.
To date Noel Geer, CEO, Connected Interactive, said that the adver-games have garnered an average of 83 seconds time spent per session, with users playing each game an average of 2.5 times. The games have been most popular with those in the 25-to-54 demo, which is also the group that's more likely to be interacting with mobile games.