The Star launches redesigned website
As part of its overall digital transformation, the Toronto publication has introduced a mobile-friendly site.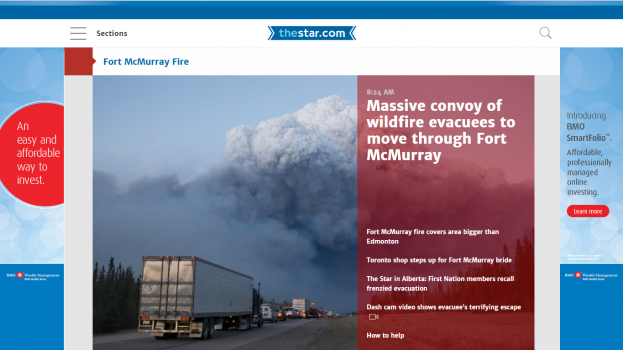 As part of its continued digital transformation, TorStar's Star Media Group has launched a new look for the Toronto Star website.
The redesign aims to give viewers a more mobile-friendly experience when visiting the site. It complements other efforts at the Star to build up its digital audience, including continued investment in its tablet edition, Star Touch, as well as investment in a new Digital Ventures division, which includes properties it has either fully or partially acquired, including VerticalScope and Workopolis.
Earlier this week TorStar reported its Q1 results, which included a net loss of $53.5 million or $.66 per share for the first quarter of 2016. Those losses were attributed to a soft national advertising climate as well as costs associated with the company's increased digital investments. Specifically the Star Media Group saw a year-over-year decline in operating revenue of 15.9% to $69.8 million; national advertising losses were responsible for 8.8% of that drop.
The move to launch a new website, the Star says, is a response to internal and industry-wide research that shows a growing shift towards mobile as the device of choice to consume news.
The Star has also added more advertiser-friendly tools, including giving marketers the ability to reach their target demo through contextual and behavioural targeting and in formats that place neatly into whatever screen is being used to access content.
"We've dramatically redesigned the site, with a more vibrant look, increased use of visuals and a focus on being able to scroll through easy-to-find articles and advertising," Chris Goodridge, COO, digital at the Star, stated in a press release.
The redesign was in beta mode for over a month before its launch this week, and the Star says it incorporated reader feedback, through a series of surveys, in bringing the final look to market.