Carte Blanche winners for Toronto, Western Canada
The Astral OOH awards for the Montreal market will be announced on May 26.
Driving high can impair your vision. And seeing what the world looks like through a pair of cloudy eyes lit up on a board in downtown Toronto can have quite the impact.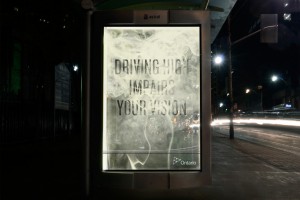 So say the judges of this year's Carte Blanche for Creatives, an Astral Out of Home contest that is in its seventh year running. The winners for Toronto and Western Canada markets were picked from a list of 341 submissions.
Candidates were chosen for potential campaigns they pitched as part of the competition across the Bell Media division's transit shelters in Toronto and its large-format digital billboards in Western Canada. Winning teams will be heading to France for the Cannes Lions International Festival of Creativity; their clients win $50,000-worth of media space on Astral's network. 
John St.'s Jenny Luong and Martin Stinnissen won the grand prize in Toronto for its aforementioned campaign, "Cloudy Vision" for the Ministry of Transportation of Ontario. Second prize went to lg2 for its "Theft Coverage" campaign in bus shelters for Desjardins Insurance, while Zulu Alpha Kilo nabbed the third prize for "Convertible Shelter," a campaign for Audi.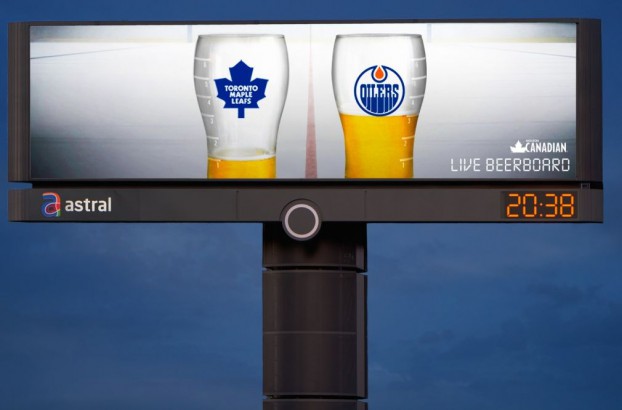 In Western Canada, Rethink's Sean O'Connor and Melissa Haebe took home the grand prize for "The Molson Live Beerboard" on large-format OOH. The ad illustrates the scores of NHL games by changing the levels of beer in each cup. Rethink also won the second prize for "Art Any Time," a campaign for live-streamer, shomi.  Third prize went to One Twenty Three West for its "Art Any Time" work for the Vancouver Art Gallery.
The Carte Blanche for Creatives winners for the Montreal market will be announced on May 26.