Paul Godfrey to feds: media needs help
The Postmedia CEO warned title losses will escalate if the current climate continues.
"I'm here today to tell you that everything you read about the doom and gloom of the newspaper business doesn't provide the whole picture. In fact it's quite understated."
Those were Paul Godfrey's opening words to the standing committee on Canadian Heritage on Thursday morning in Ottawa.

The president and CEO of Postmedia was calling attention to his company's falling revenues, as well as those at other publications, highlighting the plight that led to the recent closure of dailies in Guelph, ON and Nanaimo, B.C. In making his presentation, Godfrey appealed to the Canadian government to step in and protect the local media industry.
Reiterating many times that he wasn't asking for a bailout, Godfrey suggested options like introducing tax incentives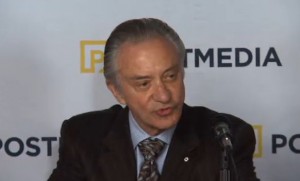 for Canadian advertisers to spend their marketing budgets within the country, rather than placing ads with international digital players like Google and Facebook.
He also pointed out that government has gradually shifted its spending to foreign digital channels and asked for more commitment to support newspapers by placing more cross-platform buys for their marketing strategy on Canadian media.
Liberal MP Adam Vaughan took issue with Godfrey's requests, saying that editorial coverage in Postmedia's papers have been among the strongest opponents to high levels of government ad spend. He also questioned why the government should be assisting a media company that is partially-owned by GoldenTree, a U.S.-based investment company.
Godfrey said that he was there to advocate for all Canadian media companies, not just his own, adding that Postmedia is still operated by Canadians. He said that more desperate measures than cost-cutting will be necessary if slides continue. That, he stated, could include title closures and publishing schedule changes on top of staffing cuts.
"In three years there will be many more closures if things don't change," he said. "It's ugly and will get uglier if current trends continue."
John Hinds, CEO, Newspapers Canada, told MiC that Godfrey's comments echo those of the industry, noting that at the core the issue is about supporting local content creation and journalism.
"There is a role for government in encouraging local content creation," he said. "Everyone is a loser if newspapers can't provide that service."
Publishers at the Globe and Mail and TorStar declined to comment on Godfrey's appeal to the federal committee when asked by Media in Canada.