Union Station screens to live-feed Raptors' game updates
Six Clear Channel Canada columns will display real-time scores from the team's game tonight.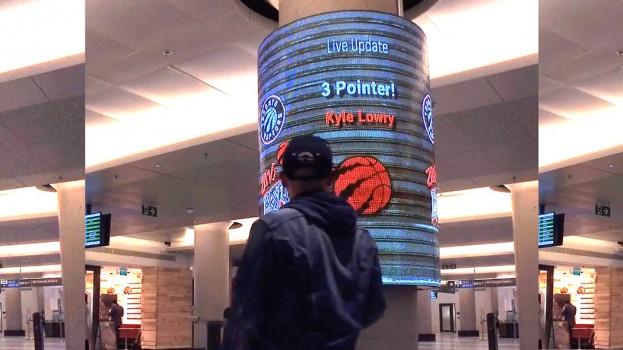 Fans of the Toronto Raptors passing through Union Station this evening will be able to stay up-to-date with the game's live action by keeping their eyes on digital columns in the station tonight.
Six circular columns in the GO York concourse will light up and simultaneously display score updates, as well as details about points scored and who scored them on the digital advertising screens.
The live-feed is possible because of a partnership among Gridcast Media, Soho Media and Dot2Dot Communications, in which Soho Media's technology is used to leverage data feed from a live event. The technology uses Soho's InGame.Ad platform, which identifies major happenings during the game, such as three-pointers. When the Raptors score those, ads on the circular columns will be interrupted by new visuals announcing the score change.
The execution is aimed at growing engagement with fans in a new way, according to Shannon Hosford, VP, marketing and communications at MLSE, which owns the Toronto basketball team.
Adam Butterworth, president of Clear Channel Canada, stated in a press release that the media company is the first of its kind to "offer real-time ad hoc content allowing brands to engage with the right audience at the right time in an impactful way."
The Clear Channel team is hoping for a good game this evening to gauge the impact of the technology on engagement among commuters in the city's busiest transit centre.