Airport games win at Billy Bishop
Zulu Alpha Kilo just won Black's Billy Bishop contest after devising a 900-foot-long hopscotch board for client ParticipAction.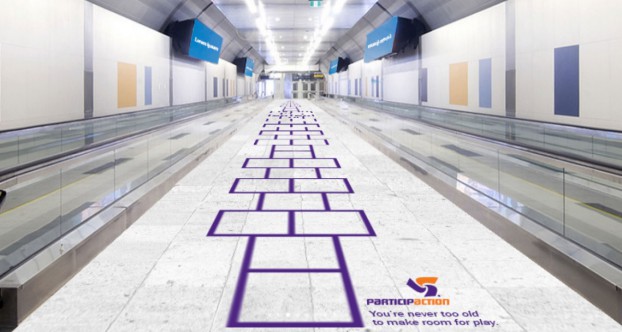 The folks at Zulu Alpha Kilo are probably (and fittingly) jumping for joy right now. They just bagged $250,000 worth of media space for client ParticipAction, taking home the top prize in Black's Billy Bishop Toronto City Airport Creative Competition for the 900-foot-long hopscotch board the team came up with for the contest.
Because it snagged first place in the second annual competition, the agency will be be given the pedestrian tunnel facility (a bridge that links downtown Toronto with the airport) to implement its winning creative idea.
Essentially, the agency and organization that encourages more active lifestyles for Canadians will place one of the longest hopscotch boards on record, along with ads on the screens that sit above the tunnel's moving walkways. Copy in the messages will encourage travellers to hop, not walk, and motivate them to keep going with lines like, "You're almost halfway! Now might be a good time to switch legs."
Beyond messages on boards in the building and tunnel, ads will also be sent to travellers via the Billy Bishop app, notifying them of the hopscotch game as soon as they enter the tunnel.
Dean Black, president and CEO of media co Black, said in a release announcing the win that Zulu Alpha Kilo understood how to use the type of "media integration" available to advertisers in the tunnel.
"The simple yet engaging use of the facility's physical properties – namely it's length – and how Zulu Alpha Kilo cleverly integrated mobile into the concept helped make the 900-foot hopscotch the winning idea," he said.
This year, the competition received more than 20 entries, which were judged on their creative strategy, innovation, interactivity and emotional appeal by a panel of international judges.
Honourable mention went to Grip Limited for their creative idea for Outward Bound (another organization that encourages activity), which proposed the tunnel be turned into a 3D outdoor setting and "encouraging donations to help give at-risk youth a chance to see the world from a different perspective."
Up to 2.5 million people are expected to walk through the Billy Bishop tunnel in 2016 — 87% of whom are Canadian residents, and 59% being business travellers. Also, 61% of the tunnel's pedestrians have an annual household income of more than $100,000.