Raptors three-pointers to continue to light up Union Station
Thanks to some electric play by the Toronto team, Union Station commuters will continue to see score updates on circular columns on the GO York Concourse.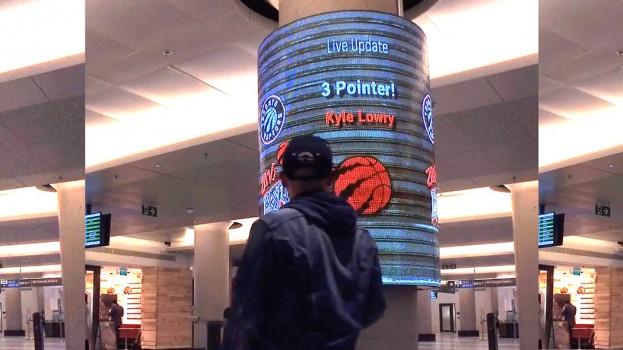 Now that the Raptors have made it through to the Eastern Conference finals, a digital OOH execution at Union Station is also getting another lease on life.
On Friday six Clear Channel Canada digital columns in Union Station's GO York concourse lit up and simultaneously displayed score updates, as well as details about points scored and who scored them on the digital advertising screens. With the Raptors' success on Friday night that execution has been extended for the remainder of the playoffs. 
For the Friday game, the columns lit up nine times with Kyle Lowry scoring six three-pointers to trigger real-time alerts.
The execution was a fully automated score update activated by real-time data.

The live feed was made possible because of a partnership between Gridcast Media, Soho Media and Dot2Dot Communications, in which Soho Media's technology is used to leverage data feed from a live event for its client, the MLSE. The technology uses Soho's InGame.Ad platform, which identifies major happenings during the game, such as three-pointers. When the Raptors score those, ads on the circular columns will be interrupted by new visuals announcing the score change.
Soho Media Solution's Caleb Benoit, director of operations for North America, said the execution is the first of its kind in Canada where live events and dynamic data have been used to trigger real-time messaging on digital signage.