Quebecor upfront 2016: TV holding strong
The media company has introduced a slate of new shows across its channels and says 91% of its viewership is live.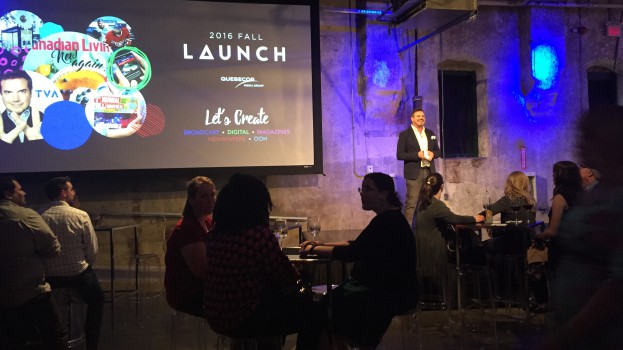 In the brick-walled, L-shaped confines of the Fermenting Cellar in Distillery District, Quebecor Media set up booths to showcase its collective assets: television reach by numbers, VR executions for its print brands, an Elle Quebec photo booth and a digital OOH transit stand featuring its latest interactive technology.
The media co's upfront headline act was La Voix host Charles Lafortune, who highlighted the success of the company's linear TV programming (91% of its viewership is live). La Voix's high ratings in the Quebec market (for the week of April 11 to 17, the show on TVA had a viewership of 985,000) led to the development of a spin-off show, La Voix Junior, which will air on Sundays.
Collectively TVA and its specialty channels are able to reach 99% of the Quebec population, Donald Lizotte, EVP, ad sales and marketing, told the audience yesterday, highlighting the company's efforts to expand access to content across platforms, while reiterating his company's success with live viewing.
In addition to La Voix Junior, TVA is adding two new primetime dramas for fall, L'Echappee and L'imposteur, as well as La Releve, a cooking competition for kids. And with Under the Dome having come to an end, the channel will replace that series with a dubbed version of Limitless.
Returning shows include Le Banquier, the company's adaptation the game show, Deal or No Deal, Boomerang, O' and Au Secours de Beatrice. 

Sylvie Castouguay, head of programming, at TVA, told MiC numbers for viewing on linear TV had actually grown for the company, in particular among the 18-to-34 demo. The channel's morning news show, Salut! Bonjour has seen an 11% increase in viewership this season, she said, and is returning for its 29th season.
Specialty channels also have a slate of new shows. AddikTV, which is focused on mystery, suspense, and thriller programming, has a new show, Premonition, a thriller based in Quebec. It will also be airing dubbed version of Mr. Robot and Blindspot. Chicago Fire returns for its fourth series, and Once Upon a Time will continue it its slot.
Obese..Change de vie is a new show on Moi&cie, a channel that is aimed at women. The docu-reality series follows people as they struggle to overcome the emotional, physical and health challenges associated with obesity.
Interestingly, says Natalie Fabieru, head of programming for specialty, is that the channel also has a sizeable male viewership. "About 40% of our viewers are also male," she pointed out.
Another new show is Mitsou and Leia, a lifestyle show that follows two Quebec TV personalities as they explore a variety of serious and light issues that affect women. The Jennifer Lopez-starrer, Shades of Blue will also be airing on the channel, as well as La Seine, which returns for a third season.
Wonder Woman is a new dubbed acquisition for the company's nostalgia channel, Prise 2. Les Boys will also be airing on this channel, as well 11/22/63, a new miniseries from Hulu (airing on Super Channel in English Canada] adapted from a Stephen King novel, in which a time traveller attempts to change the course of history by arresting the assassination of John F. Kennedy.
And on the TVA group's lifestyle channel Casa, chef Hakim Chajar explores the food and culture of his native Morocco for an eponymous show, Hakim Chajar.
The TVA group is offering nationwide access to Addik TV and Moi&cie between Aug. 22 and Sept. 12 when its fall programming goes live.