New company makes DOOH programmatic
Launched by former Newad employees, Campsite is currently testing its self-serve platform with Cadreon and Zenith.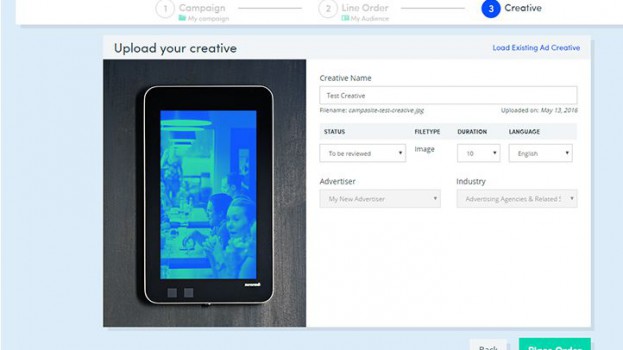 There's a new self-serve programmatic company in Canada, and this one's for digital out-of-home (DOOH).
Toronto-based Campsite Global was launched by Edith Gagné and a team of developers who had  previously worked as part of the digital team at Newad, and stayed on after the company sold its online assets to Oboxmedia in late 2015.
Campsite is a self-serve platform that allows clients to buy on a cost-per-view metric and target campaigns based on geolocation, gender, sex, demographic, and other flexible custom criteria. The platform is able to charge a cost-per-view metric because it works with suppliers that have built-in motion sensors inside their DOOH faces.
Gagné said the idea for Campsite came from discussions she had with clients that were looking to buy DOOH with their digital team.  She realized the market didn't have a solution available and began working on one.
The new company is launching with 1,000 faces of Newad's inventory, and is in talks with other suppliers to expand beyond that, says Gagné. Test campaigns are currently in market with Cadreon and Zenith. Tessa Ohlendorf, managing director of Cadreon Canada, said her team was interested in working with Campsite in part for the guaranteed viewability it offers clients.
"Fully viewable video and display inventory is effective, in demand and hard to find," said Ohlendorf in a release. "The advancement of a model for DOOH that is similar to programmatic display and video will enable us to dramatically increase reach, brand awareness and intent for our clients' brands. Guaranteed viewability is increasingly critical to our advertisers' purchasing decisions, and Campsite's platform offers us an option to deliver on exactly that."
Gagné said goals for the first year of Campsite include expanding its model to have an RTB solution that allows for DOOH campaigns to become more closely aligned with digital ones. The Campsite team is also working on exploring the addition of beacons to its platform to allow for ad retargeting.