The new vices for Vice Canada
The media co's newfront event Tuesday revealed the upcoming launch of Vice Quebec and a new in-house creative services division. (Vice Media co-founder Suroosh Alvi pictured.)
By: Katie Bailey and Val Maloney
Last night at Toronto's Airship 37, a crowd of clients and media buyers gathered for Vice Canada's first official newfront.
The event came amidst breaking news of Vice newsroom layoffs in the U.S. and U.K. yesterday (which did not affect Canada, Vice confirmed) and last week's unusual promotion of free advertising offer in its Canadian print magazine ahead of its upcoming relaunch.
However, the mediaco painted a sunny picture of its Vice digital operations in Canada, announcing a formal expansion into the Quebec market with Vice Quebec this September, the launch of its branded content division,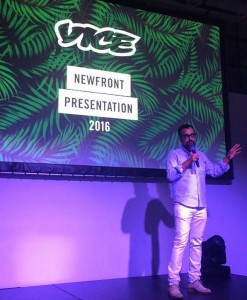 Virtue, in Canada and five new verticals in this market.
Absent from the night's events was any talk of Viceland, the media co's linear TV channel, which launched last winter with partner Rogers Media. Details on upcoming programming for that vertical is expected at Rogers Media's upfront in early June. However, a sneak-peek was revealed when comedian Kenny Hotz (Kenny vs. Spenny) jumped on the stage at the end of the event, referencing a pilot he's developing with Rogers for Viceland in Canada. "Unfortunately we're in Canada and there's nothing for us to watch and enjoy," he quipped in promotion of his project.
What was discussed at length was Vice Canada's digital properties, and in particular its success with French-language content, which it has been doing with Daily Vice, it's mobile-first news show, since launch. Daily Vice content is done bilingually, with some French content outperforming English content, the company touted, adding that Daily Vice will have its most-viewed month this May (metrics were not mentioned).
The new Vice Quebec vertical will be led by GM Delphine Poux, who moves into the role from her most recent position as client solutions director at Rogers Communications.
Also revealed on the content side were five new lifestyle verticals: Vice Health, Vice Gaming, Vice Travel, LGBTQ by Vice and Vice Money. The company placed particular emphasis on Health, claiming that its research has indicated "there's no editorial brand that covers today's health culture [as it intersects with] technology and science."
Outlining Virtue's services in Canada was Vice Canada CRO Ryan Fuss, who took the stage to tout the in-house agency's capabilities, emphasizing the goal is to be "complimentary, not competitive with" traditional agencies.  "Today I'm proud to announce we're open for business and we've arrived," Fuss said. "We're investing in Virtue in Canada. It's a priority for us."
Virtue was first launched by Vice in 2006, and operates as an integrated in-house agency for the media co, with a focus on branded content.