Upfronts 2016: CBC tables a "transitional" 2016/2017 schedule
As the pubcaster enters its third upfront under its premium-focused programming strategy, it continues to seek balance between new series, second chances and long-running hits.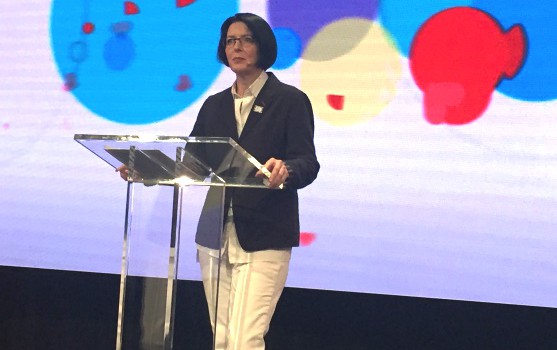 Two years ago, in 2014, CBC's upfront was something of a grim affair.
Then-new EVP of English Services Heather Conway took the stage, a few hours after news had leaked that the Ceeb was ending Republic of Doyle, cracking a wry joke in the face of what seemed at the time like a pubcaster on the brink: "As you know, there's not much going on at the CBC these days," she said in opening. "We just wanted to have you guys over for coffee."
This year, with a government that has its back and a revamped primetime programming strategy solidly in its third year, the exec was projecting a much more confident tone.
"We believe we make great Canadian content," she said in a post-presentation interview with Playback. "I would put the CBC's comedies and dramas up against anybody's. Increasingly, we're seeing that those comedies and dramas are being picked up by those global players – everybody's in a hunt for great content."
Conway characterized the CBC's fall/winter 2017 TV schedule as one in transition, with a number of ambitious new series' in place alongside the return of super long-running series like Heartland and Murdoch, both heading into 10th seasons.
"You're seeing a transition, where the schedule is being refreshed. We have some longstanding hits that are beloved – and you don't want to walk away from hit television. It's hard enough to make. I think sometimes where people forget, a broadcaster, the word broad actually means something."
The term broad would well-encompass what CBC will have on offer for Canadians this fall and winter. While much of the new programming has been previously revealed, the Ceeb did confirm that Steven Sabados will return to daytime CBC with an as-yet unnamed series, joined by new co-host Jessi Cruickshank, with two additional hosts being named in the coming weeks. Also previously unannounced is Pure from Big Motion Pictures, a 6 x 60-minute scripted miniseries about Mennonites in the drug trade. That series will debut in 2017.
And a host of the previously announced series in the CBC fall/winter lineup now have primetime homes. Shoot the Messenger from executive producers Sudz Sutherland and Jennifer Holness of Hungry Eyes Film and Television (8 x 60 minutes) gets a plum Monday night kickoff at 9 p.m. with Murdoch leading it off at 8 p.m.; new comedy Kim's Convenience from Thunderbird Films in association with Soulpepper Theatre Company (13 x 30 minutes) will debut in CBC's Tuesday night comedy block at 9 p.m., sandwiched between This Hour and Mr. D, while This is High School, a new unscripted series from Paperny Entertainment about life in a B.C. high school (6 x 60 minutes), will get Heartland (7 p.m.) as a lead-in on Sunday nights at 8 p.m. And the returning The Romeo Section, which had a rough start to life last fall, will get Dragons' Den (8 p.m.) as a lead-in on Wednesday nights at 9 p.m.
"I don't think we were prepared to call it in on one season," Conway said of Romeo. "I think the quality was there. We could see the quality."
New mid-season series will include the aforementioned Pure; Catherine Reitman's Workin' Moms from Wolf & Rabbit Entertainment (13 x 30 minutes) and docu-series True North Calling (7 x 30 minutes) from Proper Television.
Notably absent from the lineup are the previously announced Caught and The Council. According to Sally Catto, GM, programming, CBC TV, The Council, which was set to be filmed in Iqaluit and Manitoba, has been pushed back to fall of 2017 due to "location and climate-related reasons." And the Entertainment One and Take the Shot Productions series Caught has been delayed due to a financing issue. Catto confirmed the series is still moving forward but was unable to provide a projected air date.
Catto said the Ceeb has remained committed to the strategy it invoked in 2014, a darker time at the net but one that did force a re-examination of its programming ambitions. At the time, Catto outlined the CBC's new strategy as focused on serialized series, the "novelization of storytelling" and "in-depth, character-driven series that are embedded in our history, incredibly well-researched but presented in an entertaining way."
Today, her message is much the same. "We're not interested in offering programming that's like the privates. We want to bring in the most vibrant, interesting talent and give them the creative space to tell their stories and to protect their space. That strategy has resulted in some really phenomenal talent coming through our doors and working with us."
What the net will continue to look for on the scripted side is much the same as it solidifies 2016/2017 and looks ahead to the following year.
"We're looking for single-camera comedies, unique and distinct voices. Premium cable[-style], storytelling, stories and perspectives that you're not seeing out there in the world. We're not looking for a typical hospital drama. Content that looks to our future is very interesting. I think The Council will do that next year. I think that's something that we're keeping an eye on."
In a broadcast climate on the brink of deep re-examination, Conway was quick to emphasize the CBC's still-gestating new programming strategy as one committed to telling Canadian stories in ambitious formats. She too couched the strategy as one that would make the CBC stand out against its private competition, a contrast to this week's comments from a trio of Quebec private broadcasters that called the CBC's strategy a "ferocious" competition with private broadcasters.
Conway characterized the strategy as the CBC finding its place in a bewildering content landscape. "What you're seeing is a commitment to Canadian creators, a willingness to take more creative risks, a recognition that our distinctiveness and our relevance is around our Canadian-ness," she said. "For me, I'm a person who has a fair amount of background in marketing, to have a distinctive offering in a cluttered marketplace is a huge asset."
For insight into the CBC's digital strategy from its 2016/2017 upfront, click here.
with files from Regan Reid