Honda Dealers buy the top: Media Monitors
The car dealers bought the most radio advertising time in Toronto for the week of May 23 to 29.
The Honda Dealer Association stayed on top of the Media Monitors ad charts for another week, topping the list in Toronto for May 23 to 29.
The Acura Dealer Association joined the list at #2 for the week, taking Pizza Pizza's spot, which dropped down to #3. Wind Mobile entered the list at #4, while the Nissan Dealer Association dropped from #3 to #5, rounding out the top of the list in the city.
In Montreal, it was the Ford Dealership Association, which jumped from #18 to #1 for the week. The car dealer association was followed by CTV, which dropped from #1 to #2.
The Union of European Football Association (UEFA) stayed put at #3 for the week, while Brault & Martinau gained one spot, moving up from #5 to #4. FedEx moved up from #7 to #5, rounding out the top of the week.
Toronto:
By brand
By category
Montreal:
By brand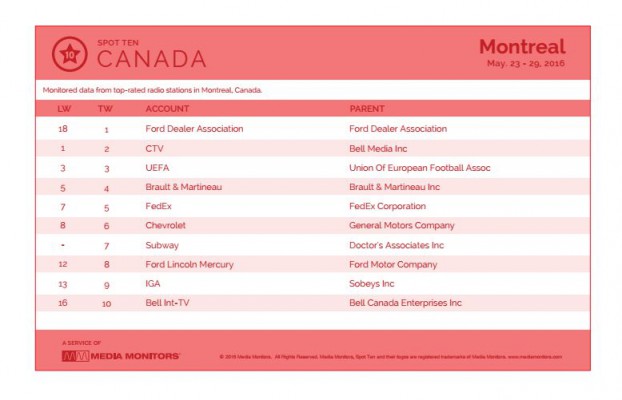 By category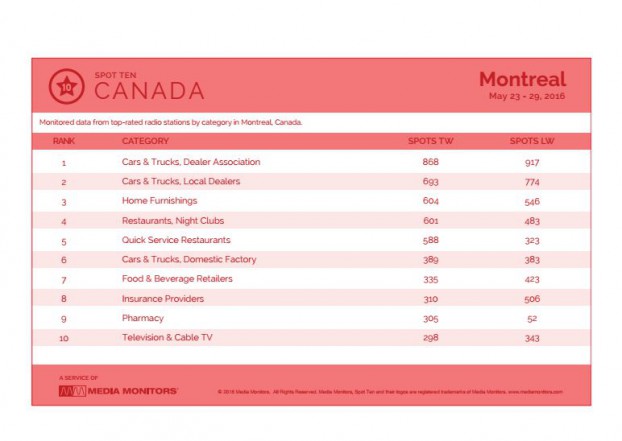 Image courtesy of Shuterstock