Botting the live sports landscape
TheScore has gone live with a bot that gives its users all the updates they want while also settling private arguments.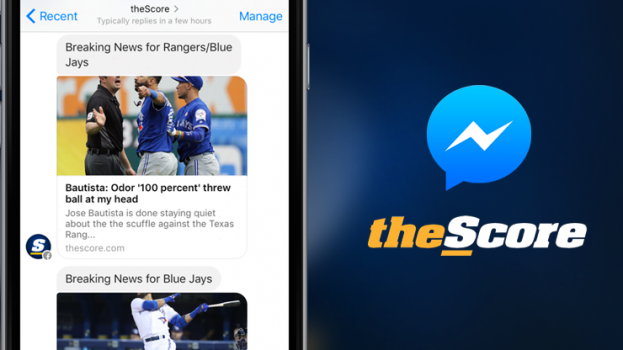 The world of automation in Canada continues to expand, this time with news that bots are arriving on the publishing scene.
This week sports app, theScore announced that it has launched theScore bot for Facebook Messenger with the goal of giving its sports followers real-time scores and breaking news updates literally as they happen.
Bots are increasingly being used to provide customer service for brands and have also been tested in the hallowed online domains of traditional newsrooms. Last month Facebook officially launched bots in its messenger service, with the aim of letting intelligent machine personalities interact with brand followers. 
"We see bots as the next phase of evolution in the way we consume media on mobile devices, allowing our brand to extend its reach and interact with Messenger's massive user base," John Levy, CEO and founder of theScore stated in a press release.
The company was an F8 Messenger partner for Facebook's annual summit where the social network discussed its plans of developing bots for its messenger service. It was the only sports media outlet to be part of that group, and the partnership allowed theScore to reach Facebook's 900-million strong audience.
Satya Nadella, the CEO of Microsoft, has said that bots are the new apps. TheScore's Riaz Lalani, VP, product, told MiC it's still to early to say, but he believes that bots complement apps, and make for a more user-friendly experience. "The truth is we don't yet know how significant a development this will be and what the adoption of bots will look like a year from now – it's very very early. What we do know is that messaging platforms in general are growing fast and are estimated to reach two billion people by 2018. This is a huge audience, and it made total sense for theScore to be there."
The bot has been customized to ask theScore's readers which teams they follow and want to receive news and scores about. Once those preferences have been registered the bot delivers those updates to the user based on his or her decision to opt-in for the service.
For a more engaging experience the bot even has the capacity to settle sporting scores so to speak. Users in a private chat arguing over a sporting incident or a player's performance can pull the bot into their conversation to decide the matter, statistically that is.
TheScore's launch service includes scores and updates from the NFL, MLB, NBA, NHL and most major soccer leagues.