District M opens up in Toronto
The Montreal-based company has hired Emil Torma to lead programmatic solutions across the country.
Montreal-based District M has expanded its Canadian footprint with the announcement that it is opening up a Toronto office on King Street West. 
The digital media company has also hired a new VP of programmatic solutions to head the new office. Emil Torma has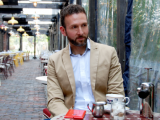 taken on the role to lead programmatic solutions for Canada. Torma comes to District M from Shaw Media where he oversaw the media co's programmatic platform revenue and yield optimization. He has previously also worked at eyeReturn, QMI and MediaCom.
The decision to expand to Toronto is part of a larger growth strategy for District M, according to JF Cote, CEO of the company, in a release.
In his new role, Torma is expected to manage all publisher-partner relations. The company's products aim to help publishers increase revenue through the use of technology and data.