Air Canada digi-targets potential U.S. expats
Tapping into anxiety around U.S. election, the airline launches a lighthearted digital and social campaign inviting Americans to give Canada try.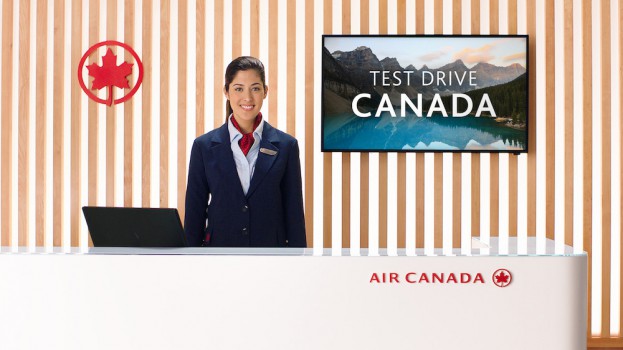 With Donald Trump's surprise insurgency in the U.S. primaries, there's been an increase in the number of social media conversations Stateside around upping and moving to Canada.
Tapping in to that sense of unrest, Air Canada has launched a lighthearted campaign targeting Americans in key urban centres and inviting them to visit, if not set down roots, in Canada.
The digital-only campaign is titled "Test Drive Canada" and reaches out to residents in Los Angeles, San Francisco, New York, Boston, and Washington, D.C., and offers travel tips and information about key Canadian cities. Creative for the campaign was inspired by a sudden increase in search engine queries with the subject "moving to Canada."
Creative for the campaign was led by J. Walter Thompson Canada, with media by Mindshare and PR by Spafax Content Marketing Americas.
Selma Filali, director, global marketing and sales communications at Air Canada, told MiC the airline saw an opportunity to be playful with the trend in the U.S. "We thought we'd jump into the conversation, not necessarily the political conversation, but idea of people interested in Canada."
Filali said the aim was to respond with subtle humour and ask Americans to try Canada out before moving here. The commercial objective behind the concept was to raise awareness about the company's U.S. presence, which Filali said, is the largest non-U.S. airline serving the country. Air Canada flies to 65 U.S. destinations and offers 240 daily flights from 55 American cities to six Canadian ones.
The media buy for the campaign includes targeted YouTube preroll in the above-mentioned U.S. markets. That includes video messaging with geofilters across desktop, mobile and tablets. The media buy also includes promoted video and tweets on Twitter using the hashtag #TestDriveCanada. Users will be able to retweet the campaign to show a Canadian city that is similar to the city in which they currently reside.
Media strategy for the campaign aims to track the pickup of the digital video campaign through social media and to retarget viewers based on their location and the flights available to them to connect to Canadian cities. The idea, said Filali, was to personalize the campaign by providing relevant messaging. 
The campaign was digital only because of it was built around a conversation that was happening purely online, she said. "It made sense because it was the contextual environment where people are engaging and sharing their feelings about this desire to move to Canada."
"Test Drive Canada" will be in market until the end of July.