360 video takes viewers on a virtual trip
Tourism Australia is showcasing Brisbane in a new display ad unit.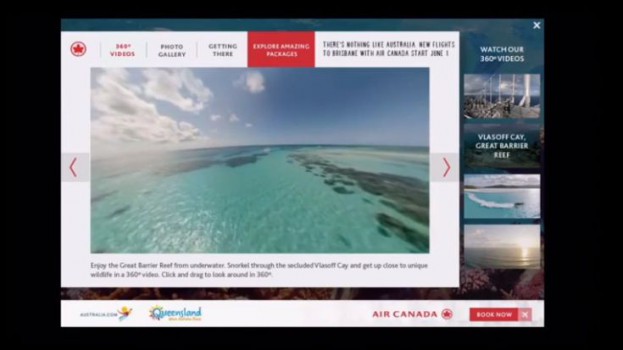 Tourism Australia and Air Canada are promoting flights to Brisbane by showing Canadians more of the destination using a new 360 video ad unit.
The use of 360 video has been expanding over the last several months. At the close of last year, Facebook launched 360 video for brands, bringing the product to market with six brands in an alpha-phase of testing. Several publishers (ABC News, BuzzFeed and Nickelodean, for example) have also been using the video capability to project their work on Facebook, while the New York Times launched its own VR app.
With brands beginning to adopt 360 video as a form of storytelling, ad tech companies are rolling out ad units to support that kind of execution.
The Tourism Australia campaign for instance, adopts the Contobox ad unit, which has been developed by Crucial Interactive and uses mobile gyroscopes to showcase 360 video within a display ad unit. The campaign is showing off Brisbane is part of a larger integrated campaign between Tourism Australia and Air Canada to promote flights to the city. Media for the campaign was done by Mindshare.
Tourism Australia recently launched a similar virtual promotion with Air New Zealand, setting up a pop-up shop in Vancouver where passersby were shown VR footage of Australian landmarks like Cairns and the Great Barrier Reef in Queensland, Melbourne's Great Ocean Road and Sydney's harbour and Opera House. Viewers had the option of sitting on seats from Air New Zealand planes while watching the footage in order to get the full experience.
In all, 500 people passed through that exhibit.