Snapchat launches new program, highlights impact of vertical video
Days ahead of the 2016 Cannes Lions festival, the social media platform is working hard to cultivate advertisers.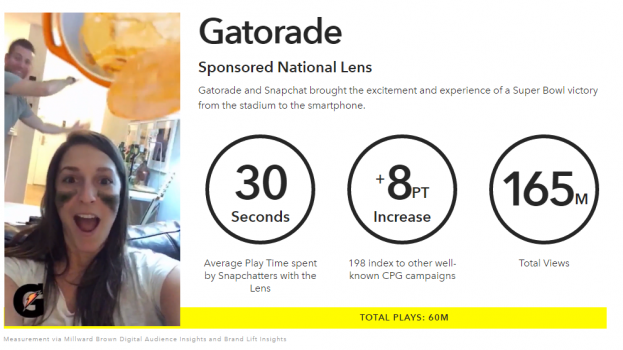 On the heels of launching its Canadian outpost, Snapchat added a few advertiser-friendly options in a bid to grow revenue on its burgeoning platform.
The social media company best known for capturing the hearts and minds of the very young has also been growing its reach in older demos. According to the latest research from eMarketer (which just got acquired by German company Axel Springer), Snapchat in the U.S. is now being adopted by a growing number of 35-to-44 year olds and those in the 45-to-55 demo, with both groups posting gains of 29% and 35.2%, respectively. Globally, the company says it sees 100 million visitors daily, with more than half of them based outside the U.S.
Snapchat's latest announcements come just ahead of the Cannes Lions Festival of Creativity in France. Last year Snapchat's founder Evan Spiegel chose Cannes as the location to announce the launch of Truffle Pig, a special agency developed in partnership with holding company WPP and British tabloid Daily Mail to focus primarily on 3V (vertical video views). At the time the offering was the first major ad unit that Snapchat unveiled. It eliminated the need for pre-roll, but was seen as niche from the point-of-view of audience targeting.
One year to the date, the company wants to prove the format works. It points to the success of Gatorade's execution (see image) with Snapchat for the Super Bowl, which saw 165 million views using its Sponsored Lenses product. According to the company, the average person on Snapchat engages with sponsored content for 20 seconds before sending it on. It also claims two-thirds of its video Snaps (which include ads) are seen with the audio on.
Media Science, a digital marketing agency, conducted an independent test in which fictional ads were created across six categories (travel, automotive and CPG among them) and served to users on Facebook, YouTube, Instgram, Snapchat and TV. The ads were served to 320 participants between the ages of 16 and 56, and results showed 11% of Snapchatters were very or somewhat likely to purchase the product after seeing the ads, compared with 3% on Facebook and 5% on YouTube. Also, those looking at vertical ads (on Snapchat and TV) were more likely to spend more time with the ad on their screens.
No doubt Snapchat will be shopping around this type of data at Cannes. And to lock in the more skeptical, the platform has announced a new program aimed at easing the process of investing dollars on vertical video. That program is called Snapchat Partners and is two-pronged: First, Ad Partners connects brands to eight ad tech development firms who build custom ad projects using Snapchat's API. The platform has created this program to make it easier for brands to buy ads specific to Snapchat. Ad-tech partners include TubeMogul, 4C and Brand Networks, as advertised on the company's website. 
The second prong, Creative Partners, connects brands directly to agencies with a portfolio of successful mobile-first vertical ad creative. Partners for that program include R29 Brand Lab, Moment Studio and Big Spaceship. 
As interest in vertical videos grows, the company has decided to rename 3V to Snap Ads. Under the Snap Ads umbrella, advertisers can buy into a series of formats, which include long-form video; webview (which lets users swipe up to visit a sponsor's webpage); Article (which lets users swipe up to read a sponsored article); App Install (lets users swipe up to download from the App Store or from Google Play).
The company also announced a new ad unit called Snap Ads between Stories, a unit currently running in beta with 10 test partners including P&G, Verizon and Warner Brothers. That unit is not an interruptive experience but runs between stories, with options to skip ads after a users engages with a number of stories. However, the format is currently in test only in the U.S. market.