OLG races to the land of vertical videos
The lottery co's media agency worked with Juice Mobile to develop a vertical video unit for its latest campaign to draw Ontarians to its betting tracks.
The Ontario Lottery and Gaming Corporation wanted to reach folks across Ontario with a message: drop in on its race tracks and spend some time betting on the fastest horses.
So it turned to its creative (BBDO) and media (PHD Canada) agencies and asked them to develop a campaign aimed at reminding people about the existence of nearby tracks. And in order to reach users on their mobiles, the lottery company invested in a new component to its media plan: vertical videos.
That addition to a campaign, which includes TV, cinema, social and print buys, was handled by media agency PHD Canada and mobile ad tech co Juice Mobile, which repurposed the video creative for vertical consumption.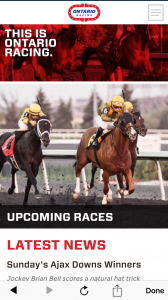 The new vertical video unit is served within the mobile browser and in-app on the Toronto Star, BBC New, BBC Sport and USA Today, geo-targeting sports enthusiasts who follow daily sports news, while also reaching a mass audience. 
The development of the vertical video unit, which is the first of its kind for Juice Mobile, is the result of a partnership with the media tech co, according to Shilton. Teams from both companies often get together for brainstorming sessions to discuss the development of new products for the mobile medium. The vertical video tool emerged after one such session.
In the ad for OLG, a jockey is seen riding a horse but as the camera gets closer to the jockey it becomes clear he's not a professional but just an everyday horse racing enthusiast. Creative for the component includes a 15-second spot. 

The media agency was briefed on a campaign to reinvigorate consumers about the fun around racing, according to John Shilton, supervisor, trading and analytics, digital at PHD Canada.
Shilton said the mobile campaign was aimed at reaching niche communities and people in smaller towns in Ontario, as well as targeting people who lives near race tracks. The agency worked with Juice Mobile to execute a vertical video so that they could use the entire real estate offered by the mobile screen, he said. "Majority of mobile campaigns use simple serve pre-roll, taking the desktop-first approach. We felt that it was a real benefit to run a vertical video through a mobile device."
The use of vertical video units is gradually being adopted. The idea of using the full screen first came to light with 3Vs, which Snapchat developed for advertisers to reach its young, mobile-first audience. Since that unit launched last year, and media consumption on mobile has continued to increase, advertisers are beginning to develop more mobile-first concepts and ad-tech companies are beginning to roll out units like the one offered by Juice Mobile.
OLG's racing campaign is currently in market and will be visible through mid-July.