Cannes 2016: An outsiders first-time view on the festival
Charles-Etienne Morier, VP of digital media at Touche!, on his takeaways from the week.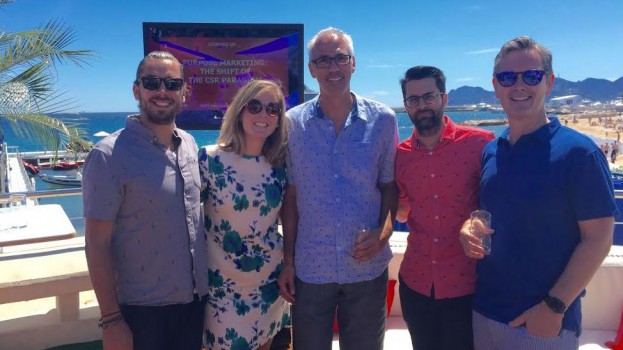 By: Charles-Etienne Morier
This year, as part of an internal recognition program for managers, Omnicom Media Group selected three of its supervisors, directors and VP to go to Cannes. But to be able to send more people, it was decided that the winners would experience Cannes without a delegate pass, since many events are held outside of the main venue.
As you can guess, I had the chance to be selected this year and experience the biggest advertising festival in the world, for the first time. We also got the chance to celebrate an award while we were there! We won a Bronze Lion for a Mark's campaign in the Creative Data. For us, it's such an important recognition and in the best category we could hope for to represent our positioning. Most people don't realize how difficult it is to just get a shortlist in Cannes, so to be recognized on the world stage is really an incredible accomplishment and the team should be extremely proud of this award. Bravo.
So I will try to summarize my experience for you. It was a very, very busy week with an agenda full of conferences, events and parties. Unfortunately it's impossible to attend all the conferences, so we had to be selective.
OMD had a really nice venue on the beach, the OMD Oasis, just outside the Palais des Festivals. They hosted several talks during the week with really interesting guests. Gwyneth Paltrow, Ryan Seacrest, Brett Favre, Anderson Cooper and Thomas Friedman participated in some of the most inspiring discussions. They covered all sorts of fascinating subjects around digital, creativity and storytelling. Subjects like the internet of experience, emotional connection through creativity and storytelling, the power of sound to create culture, creativity at the intersection of content and data, purpose-driven brands, the business value of creativity, TV advertising in transition and shaping the live experience.
What was the most striking to me was the overabundant presence of technology and digital media vendors. Snapchat was the official sponsor this year. We got to experience VR with Samsung, produce a 360 video on the Facebook pier, try Google Cardboard or play volleyball at the YouTube beach, relax at the Pinterest venue and dance to great music at the Spotify/Twitter party. They all had big venues on the beach, on hotel rooftops, or on yachts! YouTube and Facebook definitely had some of the most impressive spots.
All the agency networks also had a big presence on the beach, from Havas to Dentsu Aegis, MEC or Omnicom Media Group. Most of the events happened in the evening or at night. We had great dinners with friends and colleagues and the weather was spectacular (sorry).
Image (left to right): Charles-Antoine Gélineau, account director, Emilie McAllister Lapierre, account director, Bernard Michaud, VP finance, Charles-Etienne Morier, VP digital and Alain Desormiers, CEO, all Touche!