Scrolling ads beat expandable for young males: IAB
The organization found that scrollable units resulted in higher awareness and intent than expandable ones, according to the new research.
According to the latest numbers from the Interactive Advertising Bureau, 419 million people, or 22% of the world's 1.9 billion smartphones users, are blocking mobile ads.
The growing use of such blockers is one reason why the IAB has set a mandate to encourage ad innovation, and the testing of new, user-friendly mobile ad units. The most recent example of that is the IAB's research into scrolling ad units in the U.S.
The study compared user reaction to scrolling ads, which appear as a window that reveals itself as the user scrolls up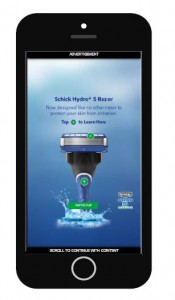 and down in a content feed, to expandable mobile banners, which need to be clicked on or hovered over to expand, and block other content on the page.
The results show the scrolling ad unit performs well, taking into account the IAB's L.E.A.N. (the acronym stands for: Lean, Encrypted, Ad choice-supported, Non-invasive) ad principles due to its smaller ad size and fact that it never blocks content.
The IAB's test used Boston-based Celtra's scrolled ad unit, with the ad for Schick used in the test created by New York-based PadSquad, and Millward Brown Digital measuring the results.
Respondents to the study were randomly shown one of the formats on their mobile device before taking a survey, and then the results were compared to determine how the scrolled and the expandable banner ad units compared.
Overall, the scrolling ad had a 4.5% higher awareness rate than the expandable ad unit, as well as a 1.3% higher purchase intent percentage. Respondents also viewed the scrolling ad as less invasive than the expandable ad unit, even though they are both the same size.
Younger audiences and males were the most receptive to the scrolling ad unit. Those in the 18-to-34 demo were 18.8% reported the highest levels of enjoyment from the scrollable ad unit over the expandable banner ad. The younger demo also reported appreciating the scrolling unit's (44%) creative attributes more than the expandable banner (15%).
The scrolling ad unit over-indexed in popularity with males; with the group reporting a 55% enjoyment rate of the ad unit and 63% saying they would stop and look at the ads.