Panoramic screens coming to Cineplex
Multi-screen cinemas will be coming to three cities later this month for Star Trek Beyond, with advertising options open to potential partners.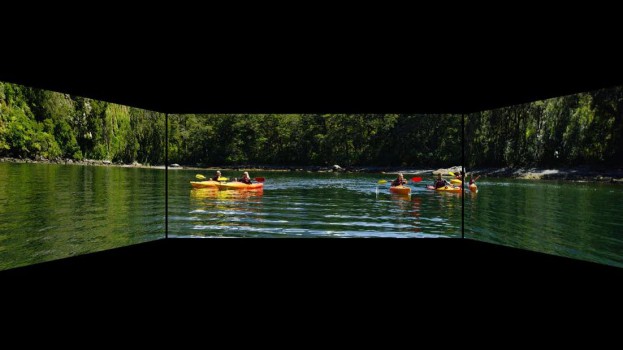 Cineplex is introducing a new theatre experience to customers in three cities later this summer, partnering with Barco Escape to bring three multi-screen cinemas to the Canadian market.
The multi-screen cinemas feature two additional side screens, which create a panoramic viewing experience for guests. The screens are being installed at Scotiabank Theatre Edmonton, Scotiabank Theatre Toronto and Scotiabank Theatre Vancouver.
Advertising opportunities are open for the new multi-screen theatres, which will be installed for the premiere of Star Trek Beyond on July 22.
Screenings of Star Trek Beyond at the new Barco Escape-enabled theatres will feature 20 minutes of extended movie footage designed to be shown across three screens. Tickets to movies at the three-screen theatres will be $5 more than general admission.
Going further than added-on content for the new screen experience, Canadian producer Minds Eye Entertainment in association with U.S.-based Bridgegate Pictures and VMI Worldwide, recently announced it will be producing a slate of six sci-fi, action and thriller films specifically for Barco Escape. The first film, The Recall, is set to be released later this year.
Director Scott Waugh (Act of Valor, Need for Speed) has also announced he is creating a film specifically for the three-screen experience. Called 6 Below, the Josh Hartnett-starring movie is expected to come to theatres later this year.
Cineplex's partnership with Barco Escape is the latest in a set of announcements the entertainment company has made that moves it beyond the traditional movie experience. The company will be introducing its first 4D screens this fall in Toronto's Yonge-Dundas Square location. It has also been running eSports tournaments, and will be opening live gaming and entertainment complexes in Calgary, Edmonton and Toronto.
Image: Shutterstock