Swipe this: The Body Shop fires up on Tinder
Aiming to build support for its reforestation program in Vietnam, beauty brand The Body Shop had added a colourful profile to the dating app.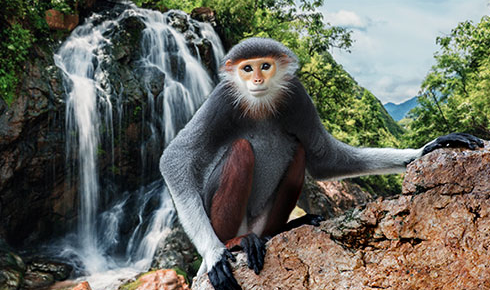 U.K.-based global beauty brand The Body Shop is firing up the world of online dating with a focus on endangered species, specifically the plight of the Red Shanked Douc monkey. 
The colourful and costumed new addition - the maroon-legged, white-gloved, old-world monkey – is capturing profile views on Tinder.
The Body Shop, known for its stance against animal-free product testing, has tied up with Tinder in Canada to share the message of its Bio-Bridges program, which aims to build awareness about the impact of deforestation and poaching on 75 million square metres of natural forestland and help rebuild it.
The Body Shop is building  the message on Tinder through the help of poster monkey Reggie, a Red Shanked Douc (origin: Vietnam) who, along with the entire douc species, is on the International Union for Conservation of Nature's red list of endangered species.
The "Find Reggie love" was developed out of the U.K., with the Tinder takeover developed by the company's in-house marketing team in Canada being specific to the Canadian market.
Reggie is being advertised on the location-based dating service as an eligible male on the hunt for a suitable mate, at least for those who are in Toronto and Vancouver. Users on the site in either of those locations will have the chance to swipe right to interact with Reggie's message. Once they do, they will get a message in their inbox encouraging them to visit the website (findreggielove.ca) about the Bio-Bridges program and how every purchase they make will help regrow one more metre of forestland, thereby bringing Reggie closer to his mate-finding goal. 
"The Tinder campaign is a fun way to reach a new audience and create awareness among Canadians about our global sustainability initiatives and show customers how they can get involved," Toby Milton, general manager of The Body Shop Canada, stated in a press release.
In addition to using Tinder, Body Shop is also running an online and in-store campaign under the title, "Help Reggie find Love." It will be promoted on social media and on the company's ecommerce site.
The company's Bio-Bridges program is part of its commitment to ethical business practices, a goal for which The Body Shop's founder Anita Roddick has been long recognized.
Between July and September, contributions from purchases made in-site and online will go toward's funding the company's project in north-central Vietnam.
The execution on Tinder starts today and runs through the end of July.