Spotted! Katy Perry 'Rises' over Toronto
Large-scale projections were part of a larger North American push to raise visibility for the singer's newly released single.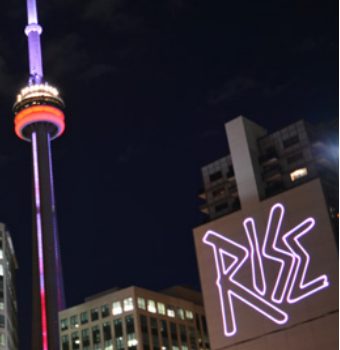 Katy Perry won't just survive, she'll rise.
The sassy singer's message was delivered both literally and metaphorically this week in Toronto, as Universal Music took to the Toronto skyline to get the word out about the new single. 
As part of a nationwide rollout for the single, the label used Wild On Media's laser-projection system in Toronto to beam the song's title, "Rise" in bright, white lettering on the walls of the Novotel Hotel tower, as well as on two large silos to grab eyeballs as people sped along the Gardiner Expressway.
"Rise" was written and sung for NBC's coverage of the 2016 Rio Olympics and was released on Apple Music and for download on iTunes on July 14, the same day as the laser execution.
Universal Music's strategy was to build a single unique execution for the newly released single in each major urban market.

Images of the execution were widely shared on Twitter, with Perry also retweeting the image to her fan following.
George A. Christidis, president, Wild On Media, said the decision to use projections was inspired by executions in U.S. cities where the promotional campaign also included skywriting. Christidis said he had to respond quickly to Universal Music's request and was able to get the execution together within 24 hours. 
As a result of the impact of the campaign on social, Universal Music extended the campaign's timing to run until Sat. July 16, adding a fourth location in downtown Toronto: a condo building across from the Soho Hotel.