Spotted! Netflix dares commuters to pick up the phone
The online streamer's OOH execution in TTC stations seeks to build interest in upcoming horror series Stranger Things .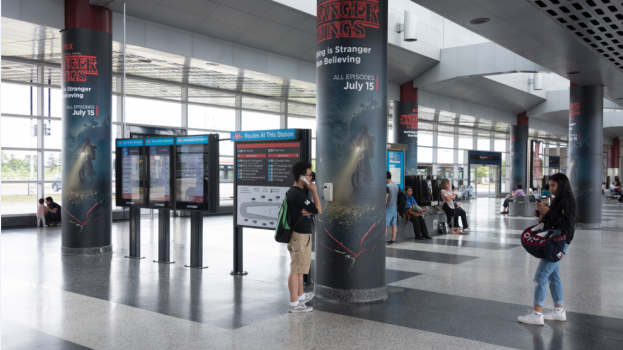 Trring. Trrrring.
"Have you checked the children?"
Remember that heart-dropping moment when the phone rings and a creepy voice answers in the 1979 horror When a Stranger Calls. Or the stalker who tracks the nervous 20-year old, calling out "Soon, Amy, Soon" in 1981′s No Place to Hide.
Netflix is using its latest media strategy to recreate that special feeling of terror for Toronto commuters, with an innovative OOH plan to promote its new series Stranger Things.

The online streamer worked with Pattison Outdoor to wrap pillars with creative from the show in Toronto transit stations. In a twist designed to to send chills down people's spines, custom-made 1980s-style dial-up phones (read: no caller ID) have been attached to pillars in some stations (see image). The phones ring every three minutes, giving creepy messages from the show to the brave ones who dare to pick up.
A similar phone is featured in the series Stranger Things, which is a homage to the horror films of the 1980s. The film's narrative revolves around the sudden and mysterious disappearance of a young boy and a girl with superhuman abilities.
Media for the campaign was managed by Pattison Outdoor, with production design developed by its in-house agency Fourth Wall. 
The campaign is in market for four weeks and wraps up in the first week of August. The pillar wraps can be found in TTC locations including Don Mills, Downsview, Bay, Spadina and Finch stations.