YouTube FanFest's free-for-all
Last year's Toronto event attracted 15,000 attendees, compared to around 2,000 at other locations.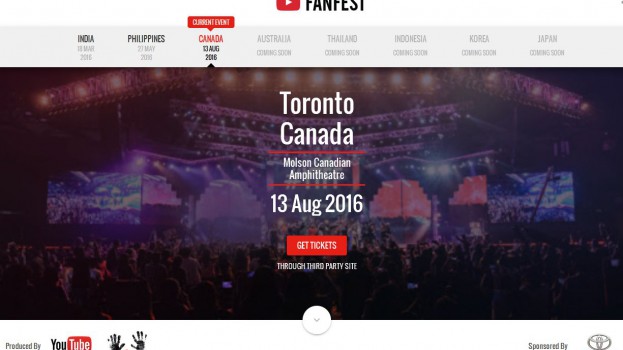 By: Bree Rody-Mantha
YouTube has dropped the pricetag for the upcoming second FanFest event in Toronto.
The event, which aims to bring fans up-close and personal with the likes of YouTube stars Bethany Mota, Lilly Singh, LaurDIY and Kurt Hugo Schneider, first came to Toronto in the spring of 2015 and saw more than 15,000 attendees attend for free. This year, organizers opted to move the event from the free space of Yonge-Dundas Square to the privately-owned Molson Canadian Amphitheatre, which accommodates 16,000 people.
"(Yonge-Dundas Square) wasn't a proper venue for an event of this size," said Fabricio Dolan, marketing director for YouTube in Canada.
The change in venue resulted in an initial price change — issuing tickets for $25 to $30.
As of July 19, the event has once again been free, which Dolan said was thanks in large part to the recently announced sponsorship from Toyota Canada. "After locking down the sponsorship, we were able to give back to the fans and add some additional acts. Adding Toyota as a sponsor gave us a lot of flexibility."
He said the free nature of the event ties in with the nature of YouTube, which is, for the most part, a free service (its paid subscription service, YouTube Red, is not yet available in Canada). "It's still about the fans, it's not about making money on this event at all."
There are other official FanFest events held around the world in countries such as India, Singapore and Australia. However, Dolan said, audiences have been far smaller, about 2,000 at each event.
"Because Toronto has been the biggest, we were the first to have a ticketed show," said Dolan.
While the initial $25 ticket price may have been a shock to some, other high-profile fan events have been charging for years. VidCon, the Anaheim-based fan and industry convention founded by YouTubers Hank and John Green, charges more than $100 for "community" (fan) tickets. At this year's VidCon, an estimated 17,000 of the 25,000 delegates were fans.
The ticket revenue from the Toronto FanFest was also meant to compensate the creators in attendance for their time. Creators will appear onstage and will also attend meet-and-greet events with fans. Dolan confirmed that YouTube will still compensate creators with the amount they would have gotten from a fully ticketed event, however he did not say how much creators would be compensated.
Fans who already paid for tickets will receive a mail-in refund and be able to keep their reserved seats.
Pictured: YouTube FanFest Toronto, 2015
With files from Val Maloney