Boom 99.7′s new morning host and show
Tim Morgan joins Corus Entertainment's classic hits station in Ottawa from the company's sister station in Calgary.
Ottawa-based Boom 99.7 has a new host and a new morning show.
The Corus Entertainment station has chosen Tim Morgan to front its new morning show, Boom Mornings with Tim Morgan.
Morgan joins the station from Q107 from Calgary where he was most recently host of Afternoon Drive.
The decision to change up morning programming comes after the broadcaster let go of host Pete Marier in June this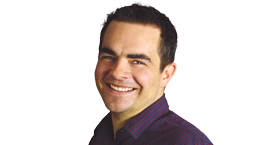 year. Marier said in a Facebook post that his departure was part of Corus' restructuring.
Overall revenues for Corus' radio division were $39.6 million for the quarter ended May 31, 2016, down 2% from $40.4 million for the corresponding quarter in 2015; revenues were down 3% for the year-to-date. Radio profits, however, were slightly up for the quarter, coming in at $9.7 million compared with $9.5 million in 2015.
In its Q3 filings, Corus reported that both Toronto and Ottawa were strong revenue markets for radio, that declines were largely on account of softness in western advertising markets. The report also identified Vancouver and Ottawa as strong growth markets.
Boom 99.7, a classic hits station, has an overall market share of 4.7% among anglophone listeners in the region, according to Numeris' spring 2016 report.
The station's ranking (Monday-to-Sunday 5 a.m. to 1 a.m.) has been rising steadily since Fall 2014, moving up from 11th place to 5th place in the market for the 25-to-54 demo.
The morning daypart (5:30 a.m. to 10 a.m.) has had less steady rankings, but ranked 5th in the Numeris survey for the same demo.
The station says it chose Morgan after an extensive cross-country search and eventually went with him because of his "quick wit" and "on-air energy."
Morgan replaces Gonzo, who was hosting the morning broadcast since mid-January. He will now host the station's Afternoon Drive show.