The campaign that led to more digital for Kleenex
How the brand increased its purchase occasions through targeted Facebook buys.
Kimberly-Clark doubled its investment in digital and social in 2015 for Kleenex. But here's what's interesting about that information: it was largely driven by a single Facebook campaign.
Aiming to increase the purchase occasions associated with the brand and target more precisely than its typical adults 25-to-54 demo, Kleenex launched a Facebook campaign in late 2015 that targeted 100 audience clusters for "Timely Care." The targets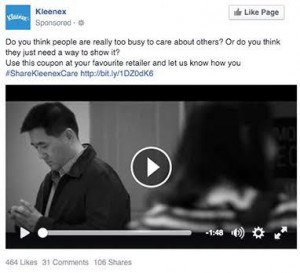 went beyond demographics to include status updates, late-night logins, weather and interests, serving up video ads that connect Kleenex with caring.
The brand then launched a second phase to the campaign, targeting people who shared big milestones, including weddings, births, new home purchases and sports team losses, with ads that included a Kleenex coupon.
"We created certain moments and stories that fit into the strategy and how we want the brand to be positioned," said Tom Houde, brand manager, Kimberly-Clark Canada. "We served the stories up during moments when we thought the consumer would be much more susceptible to consuming content from a brand like Kleenex."
To date the campaign has generated a 11% increase in ad recall and a 9% jump in purchase intent, according to statistics provided by Kimberly-Clark. Houde said that although the campaign idea originated in the U.S., it continues to have an impact on Canadian purchasing. In Canada the media for Kleenex is done by Mindshare with creative from Ogilvy.
Overall, engagement has surpassed the brand's benchmarks, said Houde. "We think that serving up the right videos to the right audience at the right time has increased shareability."
Kleenex Canada's media spend is fairly evenly split between traditional buys like TV and print and digital, said Houde.