Making a case for PEI at the entry point
An accounting firm is behind a Charlottetown airport campaign to promote the island as a business friendly space.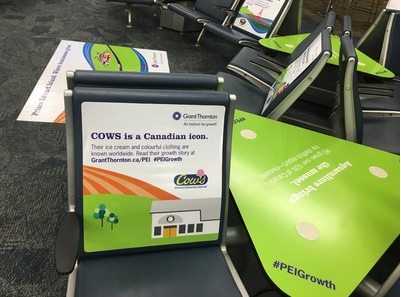 Travelers (and business people) transiting through Charlottetown airport will be encouraged to think about the province's investment potential.
U.S.-based accounting firm Grant Thornton with offices in Prince Edward Island has teamed up with the airport to buy space for an advertising campaign that focuses on business success stories on its shores.
The campaign, which profiles the stories of three local businesses - Aspin Kemp & Associates, Top Dog Manufacturing and COWS Inc. – is visible in the airport's departure lounge and is running under the tagline: "Prince Edward Island, where businesses grow."
The campaign is aimed at changing perceptions around the island destination as not just a centre for tourism but also a "vibrant place to do business," according to Kathy O'Rourke, managing partner, Grant Thornton PEI. 
The stories are also being shared on the firm's website and being promoted on twitter with the #PEIGrowth.
Media for the campaign was planned and bought by the Dunne Group in Charlottetown.