Teens, malls and WE join to paint a bigger picture
Cadillac Fairview's back-to-school CSR strategy is aimed at initiating a social conversation around global issues like hunger and education.
Cadillac Fairview is placing visibility around its support for international charity WE through a new campaign aimed at inspiring Canadian youth about the importance of life's bare necessities.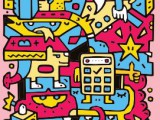 The "We Stand with WE" campaign launched this week at Cadillac Fairview malls through interactive selfie stations, digital walls where visitors can take a pledge to support the organization's five pillars – education, health, hunger, nature and shelter – and share the pledge across social channels. The walls also provide information about WE and the issues children face around the world.
Creative for the campaign was developed by the Traffik Group, with BBR Media on its digital media execution, North Strategic on PR and social media and SapientNitro developing the microsite's digital hub.
The campaign is part of Cadillac Fairview's back-to-school focus, reminding young Canadians shopping for the start of the new school year of big-picture issues that affect our local, national and global communities. The malls operator tied up with WE for a three-year agreement in July, which includes a first-ever WE retail location at Toronto's Eaton Centre.
The campaign will be shared on social media with the hashtag #WhoWillYouBe, with those who pledge walking away with an enamel pin to advocate their support for WE.
The campaign is in market until Sept. 5.