The Kit Compact goes national
Inspired by the success of the pop-up concept in Toronto, the publisher is expanding the business to reach fashion-forward women in other Canadian markets.
Toronto-focused pop-up mag, The Kit Compact, is bucking the downsizing trend in the print magazine business by spreading its tentacles across the nation.
TorStar's millennial-targeted beauty and style magazine is expanding outside the GTA to reach communities across Vancouver, Calgary, Edmonton and Ottawa, boosting its circulation from 50,000 to 125,000 nationally.
The move sees the expansion of the Compact's model in which local content is curated by The Kit's editorial team and also includes content created by local influencers.
Laura deCarufel, editor-in-chief of The Kit, said the company has a network  of influencers in place across all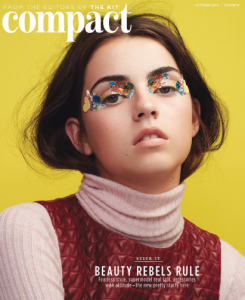 markets who will push the magazine's content on social channels.
Those influencers in local markets like Lucy Yun (@beyunique) in Vancouver, Alyssa Lau (@iamalyssalau) in Edmonton and Jodi Blk (@jodiblk_) in Toronto are members of local teams that will amplify the brand's content (profiles of each market's most fashionable people, places and products) to their followers.
The Kit Compact hit Toronto's streets in September last year launching with Forever 21 as brand sponsor, with brand ambassadors distributing copies at key locations across the city's transit network, as well as high-trafficked above-ground locations.
Giorgina Bigioni, publisher of The Kit, stated in a press release that the publication is a new and engaging way to target new readers. As it has done in Toronto, the magazine's distribution strategy involves hand-to-hand distribution by brand ambassadors at specific high-traffic locations through its distribution partner Toronto-based Moon Experiences. 
As in Toronto the Compact will be available at guest services in a few Cadillac Fairview mall locations across the country.