Spotted! Beautifying the ordinary in Toronto
Urban Barn has partnered with the City of Toronto to bring art to traffic-signal boxes.
Vancouver-based furniture store Urban Barn has partnered with the City of Toronto to help beautify traffic signal boxes on the city's streets and better connect with its target audience of first time home buyers and condo dwellers.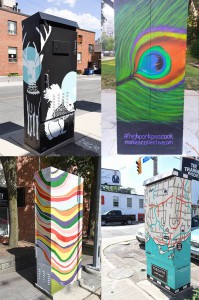 Melanie Rego, president of Elevator Communications Inc., said that Urban Barn hopes to expand the program to reach more of its "post-Ikea" target.
The partnership was organized through Urban Barn's public relations partner, Elevator Communications, who brought the opportunity to become part of the City of Toronto's Outside the Box program. Urban Barn's involvement with the program is the first corporate deal for the project, which is aimed at making the city's street more beautiful and combating graffiti and vandalism.
In addition to sponsoring the city program, which will see 10 artists paint traffic boxes with original art this summer, Urban Barn will be selling additional copies of the artwork in its stores, with an auction for the pieces in September.
"The long-term goal is to own beautifying the streets of the country," said Rego. "Next year hope to do the same in Vancouver and connect with more artists to help them gain visibility."