Spotted! Samsung's #GalaxyLife rides into Toronto
The electronics company is targeting millennials' way of life with the Toronto execution for its water-resistant and connected new phone.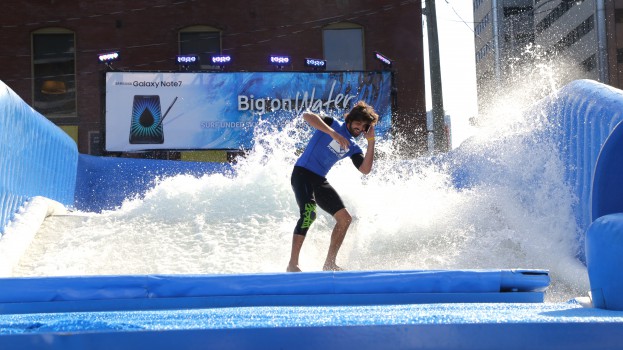 Mark Childs, CMO, Samsung Canada, is on site at his company's latest pop-up execution, shooting 360 video as pro flowboarder Sean Silveira glides down a surf machine with a Galaxy Note 7 in hand (see picture).
Video taken, Childs then reaches into his bag – where he's stashed an assortment of related devices. He has to input his Starbucks breakfast meal into his phone so his cal count is outnumbered by the morning sprint recorded on his Samsung watch. It's all-in-a-day's work for Childs as he preps to inaugurate the Toronto venue of the electronic company's ode to the way we live now.
Which is a #ConnectedLife. That is, in fact, the larger message behind the last in a series of nationwide pop-up executions promoting the company's new phone, timed for release ahead of the iPhone 7′s launch later in September. As part of the campaign OOH events have rolled out across the country, stretching from the beachy shores of Vancouver and stopping in Calgary, Edmonton and further east in Montreal before landing today on the intersection of Front and Simcoe.
Samsung's usual roster of agencies worked to bring the execution of life. They include Starcom (Media), Cheil (Creative and Social), Mosaic (Experiential), and North Strategic (PR and Influencer Relations).
The aim of the broader #GalaxyLife campaign is to highlight the connected nature of our lives and to demonstrate how Samsung can do this through its entire product range, explained Childs, who did not brave the surf slide.
And to demonstrate the phone's water-retention capabilities, the surfing execution – open to the public for trial, by the way – is aimed to show off the phone's ability to be submerged in water for up to 30 minutes and surface unscathed. (Who doesn't love that?)
The Note 7 is the hub of that ecosystem and is prominently exhibited on a bar in the centre of a large room built for the execution.
Around it are four corners aimed at demonstrating the phone's features but also showing how it taps into the company's other devices to make for a content-focused overall connected experience.
In one corner is a VR area featuring the Samsung Gear while another corner highlights the phone's ability to capture moments in low-light conditions with a graffiti wall in a darkened space as a place to test that promise.
A third corner exhibits the company's wearable products, which includes smart watches and also a battery-powered case with smart wireless earbuds.
Finally the pop-up space expands the company's Olympic focus with a dance booth that invites millennials to dance their pants off and then see an exported video transporting them to the beaches of Rio.
GalaxyLife is supported nationally with a larger media campaign that includes a TV, digital and social media buy but Childs says the focus is very much on digital, given its target audience, which intuitively lives the connected life.
The pop-up is up for a week. Over the course of the week a host of influencers and musical acts like The Darcys (opening night party), Insta photographer @tahaphoto, and DJ Skratch Bastid for a series of events that closes with a mellow yoga session on Sunday Aug. 28.