World Cup of Hockey to hit Toronto streets
A fan festival and jersey ads are among the activations coming to next month's tournament.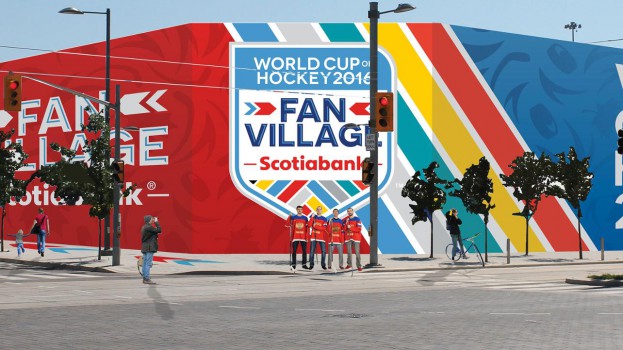 One month out from the puck dropping in Toronto, organizers of the World Cup of Hockey 2016 unveiled additional details about the upcoming tournament at a media event yesterday.
The tournament, which is a joint effort between the NHL and NHLPA in cooperation with the International Ice Hockey Federation (IIHF), will see eight country teams hit the ice in Toronto beginning on Sept. 17. It's returning after a 12-year hiatus, and is timed to build hype ahead of the regular NHL season beginning in October.
In a press conference yesterday, NHL commissioner Gary Bettman and other executives said the tournament will be used as a testing ground for new innovations like in-game puck and player trackers, as well as jersey ads.
World Cup of Hockey partner SAP will be the first to test drive jersey ads, which will be on the shoulders of sweaters of players from all eight teams during the tournament. Though its new for this tournament, Bettman has said the ads won't be making their way to NHL jerseys anytime soon.

A 250,000 square-foot fan village has also been added to the festivities. Located in Toronto's Distillery District, the family-focused village will be open from Sept. 16 to 25.
Sponsored by Scotiabank, the fan village will include live music, ticket giveaways, food vendors from the tournament's participating countries and viewing parties.
The fan village party will begin on Sept. 16 with the World Cup of Hockey Pepsi Premiere Party, which will include red carpet player arrivals and a ticketed concert. Another Pepsi-sponsored concert will be held on Sept. 23, with musicians and ticket availability information becoming available at a later date.
Scotiabank's sponsorship of the fan village will include virtual and real-life activations, with the Scotiabank Virtual Arena and the Scotiabank Sports Pad both allowing visitors to test their hockey skills.
The fan village will also be home to the Molson Canadian Hockey House, a Molson Canadian Human Bubble Hockey Game and the Rogers Fan Hub, where visitors can test out new tech from the telco.
New sponsors were also added to the World Cup of Hockey lineup during yesterday's media event. They include autoTRADER.ca, EA, Esso/Exxon Mobil, Geico, Pizza Pizza, SAP, Sonnet and Upper Deck. Those sponsors join Air Canada, Canadian Tire, Honda, Molson Coors, PepsiCo, Scotiabank, Tim Hortons and Visa, which were announced as partners earlier this year.