Fan Expo to harness the growing power of e-sports
Hot off a sold-out live tournament at the ACC which saw 15,000 guests, the genre is exploding online in Canada - and may soon break into broadcast media.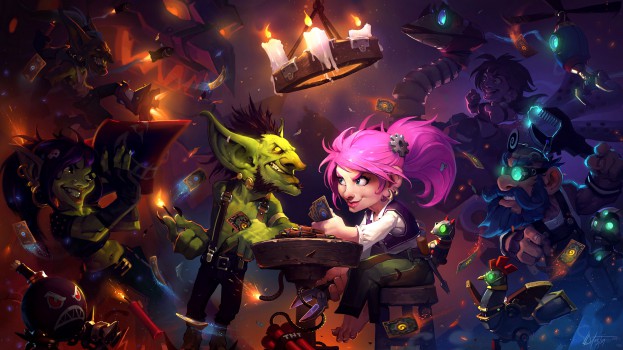 Sept. 1 marks the start of the 22nd annual Fan Expo event in Toronto. Some 140,000 fans of gaming, sci-fi and comic culture are expected to gather at the Metro Toronto Convention Centre over the course of four days.
In addition to meet-and-greets, screenings and panels with the likes of Stan Lee, Mark Hamill, Kate Mulgrew and more, one of the big draws at the exposition will centre around the increasingly hot world of e-sports.
Northern Arena, a Toronto-based e-sports league, will host 16 teams from around the world at FanExpo, with players coming from as far as Mongolia and Brazil, as they partake in tournaments for games CS:Go, Hearthstone (pictured) and Clash Royale. The teams will compete for a prize pot of more than $100,000.
Carl Michel, co-founder and CEO of the Canadian League of Gamers (the parent co of Northern Arena), couldn't say exactly how many fans were expected at the tournament — only that the convention itself will support about 140,000 people (he told MiC that four million viewers are expected to tune in to watch the live stream on Twitch).
But if a recent League of Legends tournament hosted at the Air Canada Centre serves as an indicator, it's likely to be a packed house. On Aug. 28, fans of the multi-player game gathered at a sold-out event (approximately 15,000 people watching in-person, according to Riot Games, which developed League of Legends), the first of its kind in Canada.
"The League of Legends tournament really started the conversation around e-sports in Canada," Michel told MiC. "For years, Asia and Europe really led the charge. There were Starcraft matches 10 and 20 years ago that were broadcast on linear television in Korea, but for years at events and tournaments in Canada, you saw maybe a couple hundred people come out."
What's changed? The increasing popularity of the games is the biggest factor, Michel said. According to Riot Games, 12 million people play or watch League of Legends online every day, and according to Twitch tracker Newzoo, an average of 79 million hours of e-sports content per month was streamed globally in 2015.

More popularity means more attention from sponsors, said Michel, which then equals bigger prize pots for players.
"Sponsors have realized that this exactly where the millennials are," said Michel. He said according to the Canadian League of Gamers' research, the majority of e-sports' Canadian audience lies between the ages of 18 and 34, with just under 40% of the audience being female.
One of Northern Arena's biggest sponsors is Bell, which will be broadcasting the finals live on TSN's web site, with additional coverage from Business News Network.
As for the future of e-sports on traditional media, Michel is hopeful that it can work — but broadcasters may have to get creative.
"For now, e-sports lives on digital, and that suits it," he said. "Some of these matches are three, four, seven hours long, so that can't really work for linear television. There can be e-sports content, you just have to get creative and figure out a new formula."
He said Northern Arena is currently working with a major broadcaster to develop linear e-sports programming, but would not reveal further details.
Northern Arena has promoted this weekend's event primarily through social media and not paid advertising, concentrating on platforms such as Facebook, Reddit, Twitter and HLTV, the community site for e-sports game CS:GO.