Nespresso goes 'live' with ET Canada
The beverage company has expanded its TIFF sponsorship to include a new Facebook Live broadcast.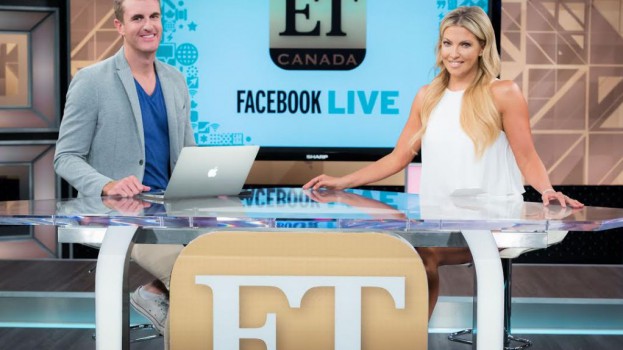 Nespresso has expanded its TIFF sponsorship with ET Canada this year to include integration into the entertainment co's daily Facebook Live broadcast.
The Corus Entertainment show launched a Facebook Live edition in June, producing a 20 to 25 minute three camera show from its Toronto studio at 1 p.m. each weekday. Since launch the show has generated a total of 841,000 video views.
Maria Hale, SVP of global entertainment and acquisitions, Corus Entertainment, said ET Canada's Facebook Live audience is predominantly women, and skews slightly younger than the show's evening audience. Reaching women 18 to 49 is a goal of the show, she added, noting the live show's audience is complementary to the evening broadcast.
Beginning today, ET Canada will add a second daily Facebook Live show for the week, with ET Canada's Facebook Live Film Festival Series Presented by Nespresso running at 10:30 a.m. daily through Friday. The sponsorship was arranged through MEC.
Fauve Doucet, strategy director at the agency said that working with a known property like ET Canada was a good way to get the client to dip its toe into a new platform like Facebook Live.
Nespresso has been working with ET Canada for three years, and has a similar target of adults 25 to 54. While the Facebook Live show is new for the brand this year, Doucet noted the largest piece of the sponsorship is still its TV buy. This year's TV activation includes a new segment on the morning rituals of the stars, said Hale. The brand is also the platinum sponsor of ET Canada's Festival Central Lounge, building a custom lounge and co-branded social media activation.
Caroline Desvaux, marketing manager, Nespresso Canada, said the deal is part of larger brand awareness push from the company, noting other at-home beverage companies are still much more well-known in the Canadian market.
Image (left to right): ET Canada LIVE: producer Graeme O'Neil and ET Canada host Cheryl Hickey. Credit: AOC Photography