Rogers buys the top: Media Monitors
The telco purchased the most radio advertising in Toronto for the week of Sept. 5 to 11.
Rogers again bought the top spot in Toronto according to the Media Monitors report for Sept. 5 to 11.
The telco was followed by Sleep Country Canada, which moved up from #6 to #2 for the week. Bell Canada dropped one spot, falling from #2 to #3.
Meanwhile WestJet made a big move, jumping from #90 to #4. Bell Mobility rounded out the top of the list, staying put at #5.
In Montreal it was CTV moving from #12 to the top spot in the city.
Bell Mobility remained at the #2 spot for the week, while Virgin Mobile jumped from #5 to #3.
Fido Solutions dropped from #1 to #4 for the week, while Allstate entered the list at #5.
Toronto:
By brand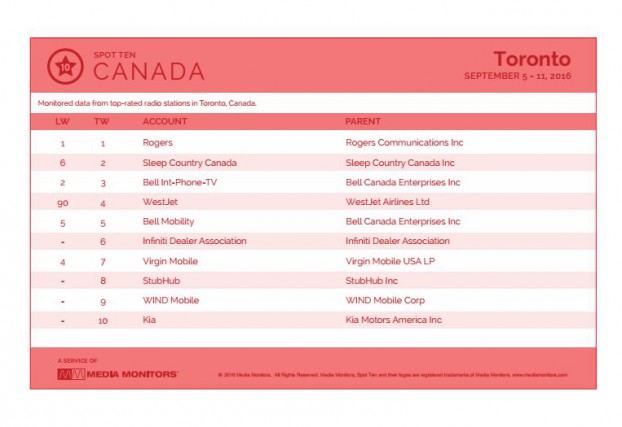 By category
By brand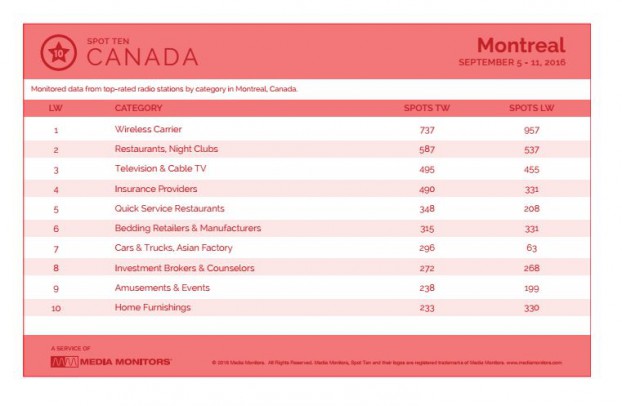 Image: Shutterstock