Digging into Toronto's underground film festival
The Toronto Urban Film Festival (TUFF), which airs on Pattison Onestop's subway displays, will have its engagement measured for the first time this year.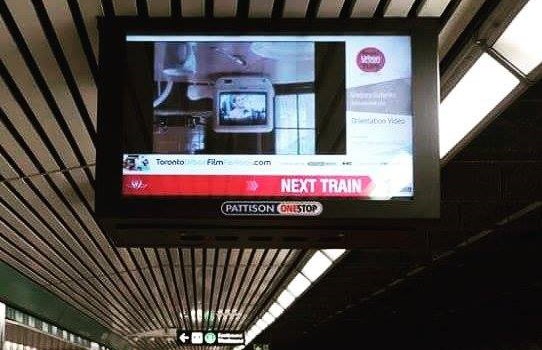 Every year during TIFF, there's another festival going on that's a little more underground — literally.
The Toronto Urban Film Festival (TUFF), now in its tenth season, showcases short, silent films by indie artists on Pattison OneStop's display screens in TTC subway stations — approximately 360 of them.
Over time, engagement with the festival has grown from hyper-local to cross-Canada, said festival founder and organizer Sharon Switzer.
"When we started, it was very urban — films about the city and transit. And that was reflected in the submissions. We had 140 submissions, all from Toronto," Switzer told MiC.
This year, she said, there were 485 submissions from 60 countries, with a range of subjects that has grown increasingly broad.
The intent was always to pair with a media company, said Switzer. "It's not like the festival existed and it was looking for a home. It was always intended to be on those screens."
While the screens provided TUFF's films with a home, for Pattison, which foregoes ad revenue during the times that the movies are playing, it brings something different — it gives subway riders a reason to look up.
"The content itself is very engaging, and it allows us to engage with our commuters in a different way, because it's important to keep the content on the screens fresh," said Cam Milne, VP of Pattison Onestop.
And, for the first time, Pattison Onestop will be able to measure just how engaging that content is.
The company installed transparent cameras in a small number of its faces earlier this year to measure how many people were looking at and engaging with that unit (Milne stated the cameras are only used to capture data and no footage whatsoever is stored or saved, and that they have been approved by the Ontario Privacy Commissioner).
"For the first time we'll be able to look back after the festival has finished in terms of scoring — how many people engaged with the films? How many impressions did each film make?" said Milne. "We'll be able to tell if awareness of the screens in general goes up after the festival too."
The subway screens reach an estimated 1.4 million people per day, according to numbers from Pattison.