What's up with the World Cup of Hockey boards?
If you've noticed a new ad op during broadcasts, there's no need to adjust your screen. The NHL is testing a digital layer during the tournament.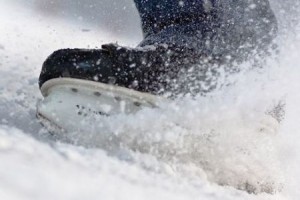 In addition to testing elements like puck trackers, referee cameras and jersey ads, the NHL has brought something else to the World Cup of Hockey – digitally enhanced dasher boards.
Working with tech company Supponor out of the U.K. has allowed the NHL to unlock the previously static boards by adding a film to them that captures infrared and makes it possible for the boards to be differentiated from the people and elements around them, said Kyle McMann, group VP of integrated sales, NHL. That means, for instance that Sonnet can run insurance ads along the boards in Canada on Sportsnet, while Geico is running them at the same time in the U.S. on ESPN.
Along with opening up ad options across multiple markets the enhanced boards can also display animated spots, but only during breaks in play. McMann said animated spots have been tested by brands along with the NHL, with the league displaying animations celebrating the winning team at the end of games.
"I think it's pretty easy and quick to figure out what the rules of the road will be," said Andrew Sutherland, VP of media brands, Rogers Media of the digital dasher boards. "But it does offer a bunch of new opportunities to integrate slightly more than a static message."
Sportsnet has been using the boards to help drive audiences to upcoming games as well as the upcoming regular NHL season, said Sutherland.
The tech is a work in progress according to online comments. One Reddit thread said that the digitally enhanced boards work as long as viewers don't focus on them too much.
There is no timeline on when the NHL plans to rollout digitally enhanced dasher boards into the regular season, said McMann, noting it would take some time to get the technology into the league's 31 buildings.
The 2016 World Cup of Hockey runs through Oct. 1.