Team North America games top 1M at World Cup of Hockey
Rogers and Sportsnet are aiming to bring fans closer to the games with a multiplatform campaign.
Canada is unsurprisingly drawing the biggest audiences to date at the current World Cup of Hockey, with an average audience of 1.5 million tuning into its opening game against the Czech Republic Saturday night on Sportsnet, according to Numeris numbers provided by Rogers Media.
Ratings for yesterday's game against the U.S. won't be available until later today. The North American team has been drawing the second-largest crowds, with an average audience of just over one million on Sunday night against Finland and 1.07 million on Monday night against Russia.
Other games have drawn smaller crowds, with Sweden vs. Russia on Sunday at 3 p.m. being watched by an average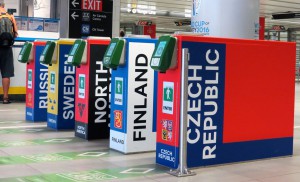 audience of 487,000 and Czech Republic vs. Europe drawing 300,000 on Monday afternoon.
Rogers is capitalizing on its World Cup of Hockey rights with a multiplatform campaign promoting its telco services with a second batch of creative in market highlighting Sportsnet's upcoming hockey coverage.
All pieces of the complementary brand campaigns are designed to bring fans closer to the games, said Andrew Sutherland, VP of media brands, Rogers Media.
The campaign includes a Union Staton takeover, with posters, turnstyle ads, video board spots and an AR experience where fans can virtually try on a Team Canada hoodie. That experience is tied to a promotion where new and existing Rogers customers get a free hoodie when they sign-up to a specific plan.
The telco has partnered with Samsung to create VR content that will be shown at The Scotiabank World Cup of Hockey Fan Village. Footage was shot during Team Canada's opening game on Saturday, and is designed to give fans an idea of what it's like to be an NHL player.
Both Rogers and Sportsnet will also be promoting the tournament on Snapchat, with filters like one that makes it seem like fans are on the jumbotron at the Air Canada Centre.
Each of the campaigns will also have static and animated ads on the NHL's digitally enhanced dasherboards, which are being tested for the World Cup of Hockey.
The World Cup of Hockey runs through Oct. 1.