Why Two Oceans went from no campaigns to The Bachelorette Canada
After a mass marketing hiatus, the South African brand is back, but instead of OOH ads it has partnered with W Network's reality show.
Like most industries, the wine business in Canada has been undergoing a transformation over the past several years. Rob Malloch, CMO, PMA Canada, which operates brands including Two Oceans, told MiC that similar to the craft beer brand explosion, consumers are becoming more experimental with their wine choices.
Rather than continue to forge ahead with the OOH-heavy campaigns it had been running, two years ago PMA Canada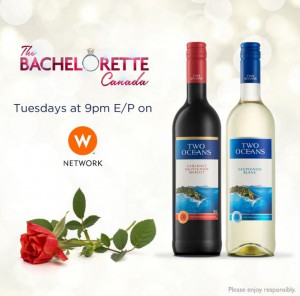 took a break from mass advertising to reevaluate its approach in the face of the changing market, said Malloch.
"OOH was producing some results in terms of awareness building and top of mind consideration at the point of sale, but there were some signs of weakening," he said. "Our share of market within South African wines in Canada has always been strong, but because we lead the market we are competing with other mass market brands to be that everyday wine of choice."
The wine brand is back in market this fall with a new advertising focus, one that aims to get closer to its female 25- to 35-year-old target with a sponsorship of W Network's The Bachelorette Canada.
Partnering with The Bachelorette Canada made sense because it delivers the female audience the wine brand is after, and also brings a group that is watching the show "almost religiously" each week, said Malloch.
"The show goes hand-in-hand with our wanting to be a relax-and-unwind moment and an escape from the everyday," he said.
The partnership also follows a similar deal from fellow PMA Canada brand Amarula Cream in Germany with The Bachelor, said Malloch. The idea to adapt that partnership for this market was to bring more personality to the brand in the Canadian market.
Two Oceans will be integrated into six of the 12 episodes of The Bachelorette Canada, as well as through 10-second bumper spots during the show and Bachelorette Canada After Show. The wine company will also be hosting interactive street sampling events in Toronto and Vancouver. PMA Canada worked with Your Brand Integrated Marketing on the program.