Shomi to cease operations in November
The Shaw/Rogers-owned streamer is closing due to the changing online video marketplace and business climate, according to the company.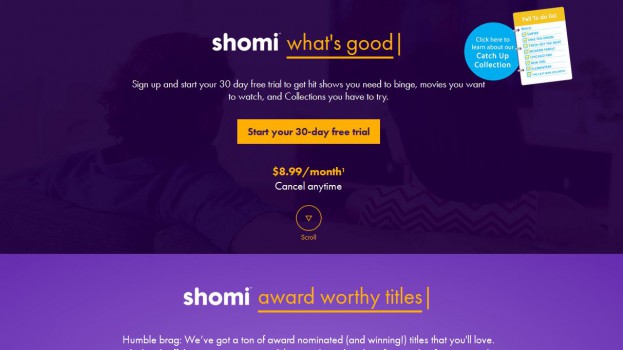 Shomi, the video streamer owned and operated as a joint entity between Rogers Media and Shaw Communications, will be shuttering at the end of November.
The streamer was launched in 2014, originally available to customers of Rogers and Shaw, before opening up to all Canadians last fall. Rival Bell Media also launched its own streamer, CraveTV, in late 2014. When Corus Entertainment purchased the assets of Shaw Media earlier this year shomi stayed with Shaw Communications.
"The business climate and online video marketplace have changed markedly in the last few years. Combined with the fact that the business is more challenging to operate than we expected, we've decided to wind down our operations," said David Asch, SVP and GM, shomi in a release.
Rogers Communications is expected to incur a loss on investment of approximately $100 to $140 million dollars in its third quarter, which ends Sept. 30, 2016, relating to the carrying value of its investment and a provision related to future liabilities in shomi, according to a release from the company. To date Shaw Communications has posted a loss of $159 million related to shomi.
"We tried something new, and customers who used shomi loved it. It's like a great cult favourite with a fantastic core audience that unfortunately just isn't big enough to be renewed for another season," said Melani Griffith, SVP, content, Rogers, in the release.
Last week Rogers Media announced the launch of a City app on Apple TV. That app will include all primetime broadcast programming, with shows going live at 9 a.m. the morning after they air on broadcast.
According to numbers from shomi the service recently approached 900,000 subscribers, and is still near that number. Asch said in the release that would make shomi a top 10 streamer service in North America. The statement didn't say how many of those are paid subscribers.
Those numbers are much higher than the roughly 4% of Canadian online households that a June 2016 report from Solutions Research Group (SRG) on shomi's active users. In other words, just more than 500,000 of 11.6 million internet households in the country subscribed to the streamer, according to that report. Combined with CraveTV,  the streamers had fewer than one million subscribers.
As a comparison, SRG reported that Netflix is in about 46% of active internet households, or 5.3 million.
"The key point I think is that our Canadian market is too small for Netflix and two local players at this point," said Kaan Yigit, president, SRG. "Netflix has U.S. and global scale and Shomi had none. Crave and shomi had a better chance of survival together."
Yigit noted that the U.S., which has a population nearly ten times that of Canada's, only has Netflix and a couple other major streamers, not a handful of operations.