Snap drops the 'chat'
The company is changing its moniker and introducing a new brand extension with video glasses.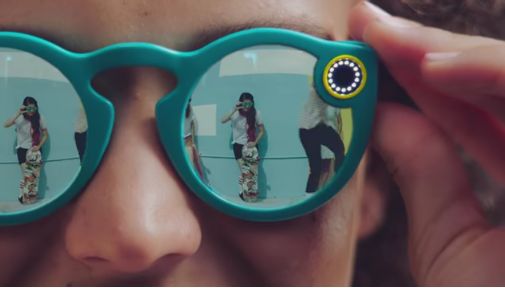 What's in a name? For some, a whole lot.
The company formerly known as Snapchat has given itself a shorter — snappier — name, Snap Inc. While its proprietary app, which has become a favourite with Gen Z and millennials for its quick-disappearing posts and bite-size Snapchat Discover format, will keep its monicker of Snapchat, the name change for the parent company represents a new phase for Snapchat, and a sign that it's more than just one app.
"When we were just getting started it made sense to name our company Snapchat Inc., because Snapchat was our only product," Evan Spiegel, co-founder and CEO of Snap wrote in a company blog post announcing the rebrand over the weekend. "Now that we are developing other products."
The first of those new products is a pair of Bluetooth-connected, camera-enabled sunglasses known as Spectacles. The glasses are capable of taking a day's worth of photos or videos on a single charge, and can transfers those "snaps" directly to Snapchat to be viewed in the app's new circular video format (which allows users to watch videos in any orientation, not just the vertical orientation Snapchat has become known for).
The product has already been developed and will be taken to market "soon," although no ballpark date has been set on their release.
Snapchat currently boasts four million active users in Canada, with 2.3 million of those users falling in the 18 to 34 demographic, according to stats provided to MiC by MediaCom. It also has a penetration rate of 23% among Canadian teens.
Canadian brands have increasingly been integrating Snapchat into their media strategies — such as A&W, which promoted its annual Burgers to Beat MS campaign through a customized geofilter on the app, B2B service provider Shopify, which executed its "Draw the Owl" hiring campaign through Snapchat and convenience store chain Mac's, which created custom facial filters to promote its Froster beverages this past summer.