Spotted! Vega gets commuters moving
The nutrition company has launched its first integrated campaign, including group workouts at Toronto's Union Station in the mix.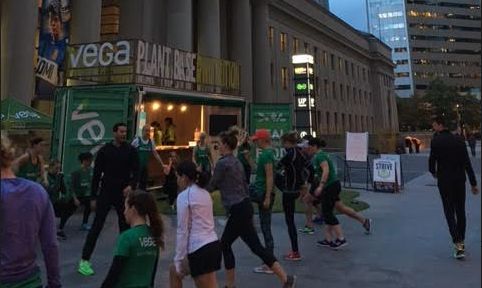 Nutrition company Vega got consumers moving a bit more than usual yesterday morning around Toronto's Union Station with a pop-up smoothie bar and group workout.
The activation is part of the brand's first multiplatform campaign, which is currently in market around the greater Toronto area. With media from Starcom and creative done in-house, the campaign is focused on the tagline "Shake up your Breakfast."
Gemma Gibbs, senior brand manager, Vega, said the aim of the campaign is to increase its current brand awareness of 36%. The push is timed with the back-to-school season, which is a period when the brand typically sees a bump in sales with people settling into daily routines.
Focused on reaching active lifestyle consumers, experiential activations are the more traditional media element for Vega. Though Gibbs notes that sampling events have jumped by 150 instances in 2016 for the brand for a total of 180 this calendar year.
What's truly new for the campaign is the OOH and digital advertising, with creative focused on swapping out traditional breakfast items like toast or cereal for a Vega protein shake. The spots are targeting adults 18 to 49, with digital videos featuring vegan vlogger Lauren Toyota aiming for a younger audience. OOH transit and subway ads were chosen for mass awareness for the brand, while digital ads are targeted at those looking at healthy content online.
OOH ads in the campaign are running for another four weeks, with digital ads and sampling events going through the remainder of the year.