More than 15 million Canadians saw World Cup of Hockey
An average audience of 2.2 million tuned in to see Team Canada take the top spot on Sportsnet.
The results are in. The 2016 World Cup of Hockey was seen, at least in part, by 15.5 million Canadians on Sportsnet.
Billed as a pre-season tournament to get hockey fans excited for the upcoming regular NHL season, this year marked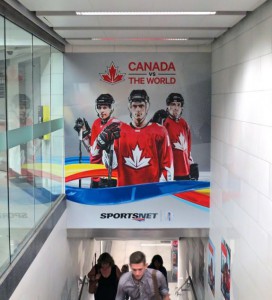 the first time the NHL's World Cup of Hockey had been held in 12 years.
Team Canada was obviously the biggest draw. An average audience of 2.1 million viewers tuned into the team's games.
An average of 2.2 million watched Thursday night's clincher, but that wasn't enough to make it the most-watched of the tournament. That honour went to the Sept. 24 game between Canada and Russia, which was watched by an average audience of just over three million viewers. All statistics are Numeris figures provided by Rogers Media.
Team North America's prime time games were also viewed in large numbers, with the two matches averaging over one million viewers.
In addition to providing a jump-off point for the regular season the 2016 World Cup of Hockey was also a testing ground for new features the NHL might add to its toolkit in the coming years. That included adding dynamic digital ads on billboards, which allowed for sponsored takeovers and different ad placements for different markets.