Spotted! Can you escape from Yonge-Dundas Square?
A room themed after Warner Bros' new thriller The Accountant is designed to intrigue audiences and get them using their puzzle-solving skills.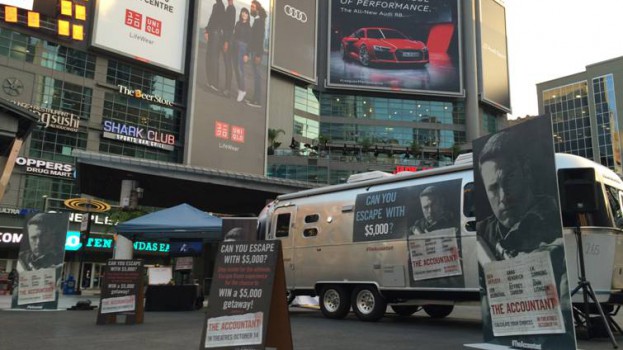 Warner Bros. Pictures Canada has taken advantage of the rising ubiquity of the escape room entertainment genre by creating a mobile version in Toronto to promote its upcoming release, The Accountant. 
An Airstream trailer branded with imagery from The Accountant (which stars Ben Affleck an an introverted accountant who makes his living working for dangerous criminal organizations) was set up in Yonge-Dundas Square Oct. 4 and will remain in the area until Oct. 6.
In the trailer, which is free to enter, groups have eight minutes to solve a series of clues and decipher a secret code. Contestants who successfully complete the escape room will have a chance to win a $5,000 prize through an onsite draw.
This is the first escape room activation for Warner Bros. Creative and media were managed by LexPR with social media by Your Brand Integrated Marketing Communications Inc. and a greater media buy for the film by OMD. The activation is being promoted through a targeted social media campaign on Facebook and Twitter.
A rep from LexPR said the high-pressure, problem-solving nature of the activation is consistent with the tone of the film, and the campaign will allow audiences to learn more about the film. The film and the activation are targeted at adults age 18 to 49.