Bell Media targets women with Gusto launch
The channel aims to fill a gap in Bell Media's offering by blending food and lifestyle programming.
Bell Media officially has a new channel in its roster, feting the launch of food and lifestyle specialty brand Gusto with a party at Toronto's TIFF Bell Lightbox last night.
The guest of honour was food star Jamie Oliver, whose future programs, including two new November launches, will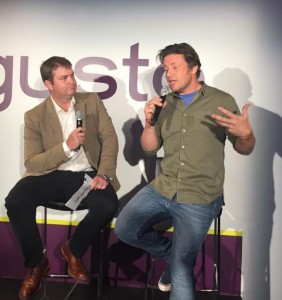 be housed exclusively on the channel in Canada.
Stuart Garvie, president at Bell Media sales, said the addition of Gusto adds more lifestyle to the media co's stable, an area he said was a little light prior to the deal. Gusto is the only strictly lifestyle and food specialty channel for Bell Media.

Gusto's primary target is women, particularly the younger end of the typical 25 to 54 demo, said Garvie. It is aiming to reach them with its mix of food and lifestyle programming, going beyond typical kitchen shows to also include the activities around eating.
Tracey Pearce, president of distribution and pay at Bell Media, added that Gusto will air more lifestyle programming throughout the day and cooking shows during primetime.
"We are going to focus on food and where it's consumed," he said. "But you can also make food more lifestyle. The experience of eating food goes beyond food itself."
Gusto took over from M3 on the TV dial, a channel Garvie said was "struggling to find an identity, and then struggled to attract viewers."
The channel also moves down the dial from its days as an independent. Though still not part of entry-level packages it does become available in more offerings at most major telcos under the deal with Bell Media. Previously, Gusto was distributed by cable providers including Eastlink, MTS and Bell Fibe.
Bell Media's acquisition of Gusto's TV property in Canada was finalized in September. Garvie said a multiplatform campaign promoting the channel will launch at the start of November ahead of Jamie's 15 Minute Meals and Superfood Family Classics going live later that month. The channel is now available in 5.6 million Canadian homes, a six-fold jump from its reach as an independent channel, said Garvie.

The appeal of acquiring a lifestyle channel also extends into the kinds of integrated ad programs that can run, said Garvie. One example has already been announced, with IKEA Canada partnering on The Search for Canada's Next Designer. The six-part series will integrate IKEA products into design challenges as contestants battle to win the title.
The Search for Canada's Next Designer is one of 10 original series that Bell Media and Gusto Worldwide will produce for the channel's 2016/17 season. The slate includes new series The Urban Vegetarian and The Latin Kitchen. Those are joined by four holiday specials and the return of Gusto's A is for Apple, Fish the Dish and One World Kitchen.