Bell Media officially launches iHeartRadio
Despite an increasingly crowded market, Randy Lennox said the audio streaming market in Canada is hungry for another player.
Bell Media is officially bringing iHeartRadio to Canada on Monday.
The U.S.-based streamer will host live feeds of Bell Media's radio stations as well as more than 100 curated playlists at launch. Bell is in talks with other media companies to add their stations to the fleet but there isn't an immediate timeline on when they will be added, said Randy Lennox, president, broadcasting and content, Bell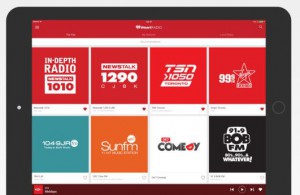 Media.
Lennox said he believes iHeart Radio will be a success with Canadians because the market is "underserved by streaming services." Apple Music, CBC Music, Google Play and Spotify all also offer ad-supported versions of their apps in the market.
Pre-roll ads slots are available on iHeartRadio, but Lennox said there won't be mid-roll ads that interrupt streams.
Quick to mention that the plan for iHeart Radio in Canada is to have a "slow and steady" strategy to user growth, Lennox said there isn't one target demo for the service. In addition to the ad-supported free version that's in market now, Lennox said Bell Media will be adding the paid iHeartRadio Plus version in 2017. iHeartRadio currently has more than 75 million users in the U.S.
The promotion of the launch of iHeart Radio will be dialed up next week, said Lennox, with TV, radio and OOH all driving awareness.
"Modestly, if someone in Canada doesn't know that iHeartRadio is here, then they're on vacation," said Lennox.
In addition to the official launch of the app, Bell Media has also announced the brand's iHeartRadio Jingle Ball will be coming to Toronto on Nov. 25 at the Air Canada Centre. The inaugural Canadian version of the concert will include performances by The Weeknd, The Chainsmokers, Alessia Cara and Hedley.