Snapchat gets serious about ads
The app has made its first foray into programmatic advertising, allowing clients to buy, target and track ads through a self-service API.
Ads created through Snapchat's application programming interface (API), which launched in June, have officially gone live on the platform.
The Snap Ads API, which is still currently in a closed beta, will allow third parties to plug into the app and buy ads on a self-service basis, tracking their campaign results over time.
It's the first foray into programmatic advertising for Snap Inc. (the new name for Snapchat's parent company).
On top of data visualizations and analytics tools, the API will allow ad partners to develop custom solutions for marketers, such as vertical-specific targeting, TV syncing and weather targeting.
Statistics that clients can check on the API include ad performance over time, average watch time and swipes (which users do to skip past the ad). They can also measure the ad performance against their budgets.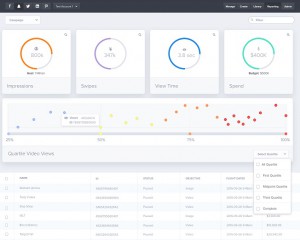 Jordan Benedet, director of social for Catalyst/GroupM, which has been working with Snapchat's API since its beta stage began, told MiC the API is going to make Snapchat an easier platform to advertise on for agencies and brands alike.
"API-based buying has been a standard practice for social and advertising platforms to scale ads efficiently," Benedit wrote to MiC. He said the API's A/B testing tools and layered targeting will driver overall media efficiency, although he noted that Snapchat's offering currently has a smaller overall set of features compared to other, more established platforms (he said this is likely to change down the road).
Because many brands are still familiarizing themselves with Snapchat overall, Benedet said those brands will still need to be educated on how to best utilize the millennial-friendly platform.
"If campaign results are poor, it could ultimately lead to an advertiser turning away from Snapchat."
According to Snap, the app boasts four million users in Canada. According to data provided to MiC by Toronto-based Solutions Research Group, 61% of Canadian Snapchat users are under 30
Snap Ads via the API is currently available in Canada, the U.S., U.K., Canada and Australia.