Scotiabank digs into Canada's hockey stories
The financial company is tugging at the heartstrings in a new 20-part series tapping youngsters from Canadian minor league teams.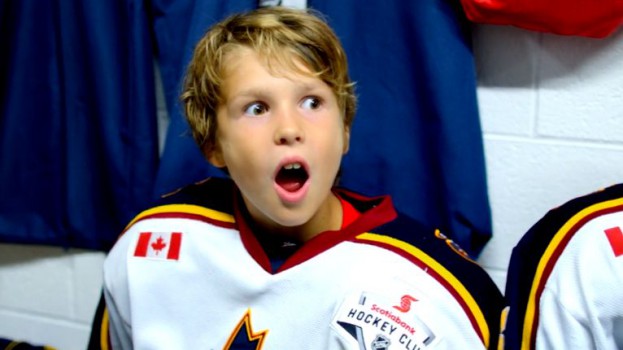 Wait, is this a commercial break or a series? Rogers Media's Wednesday night title sponsor Scotiabank will likely cause a few double takes with its 2016/17 activation.
The financial company has launched Heroes of Hockey Day in Canada, a 20-week long series with 90-second episodes that will air each Wednesday night during Scotiabank Wednesday Night Hockey. The series is part of Scotiabank's 5th Season hockey partnership, its platform for everything the company does around hockey.
The series will showcase three minor league hockey teams, The Burlington Eagles, Halifax TASA Ducks and Calgary Junior Inferno as they compete in non-hockey challenges to win a spot at this year's Scotiabank Hockey Day in Canada. Each of the teams were chosen for work they have done in their communities, like donating the most food in a local drive, or hosting a cancer fundraiser and donating their hair for a teammate that died. Each of the teams will be paired with a hockey legend that will act as a mentor through the year. The mentors are P.K. Subban, Lanny MacDonald and Cassie Campbell-Pascall.
Scotiabank worked with Mark Studios on the videos and PHD on media.
Clinton Braganza, SVP, Canadian marketing, Scotiabank, said the goal of taking a serialized look at the content is to tell a story throughout the season that will connect the NHL games to local communities. The target for the video series is two-fold, aiming to reach hockey-engaged families with kids under 12 that play the game themselves, as well as general hockey fans watching Sportsnet broadcasts.
In addition to the 90-second spots each Wednesday, additional behind-the-scenes content in the series will air on Scotiabank's social media channels.